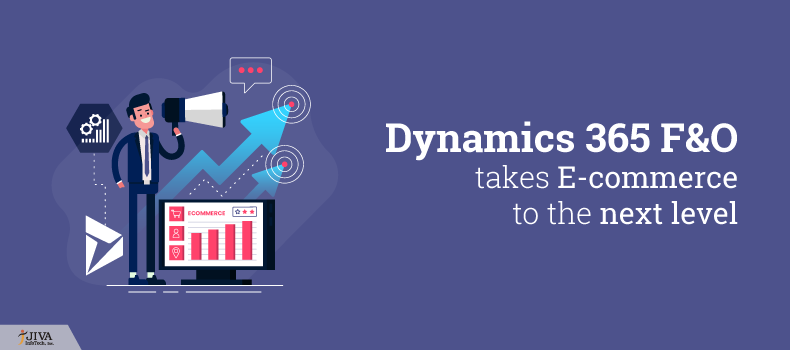 Dynamics 365 F&O takes E-commerce to the next level
With constantly changing E-commerce trends and cut-throat competition, it has become significant to streamline business processes across departments for executing successful order deliveries. Is there a master software that can integrate all departments, headquarters with subsidiaries and local offices, and systems across different entities to allow shared information, planning, budgeting, and services? The answer is clear as daylight – YES! An ERP system has all these functionalities and a sight more.
Implementing an ERP system is a costly affair which makes it imperative for businesses to pick the right ERP suite that fits their business requirements like a glove. Dynamics 365 for Finance & Operations is an ERP system that unanimously fits in the online business requirements. Its made-to-measure quality enables businesses to design their ERP system exactly as they want, neither an application more, nor less. Dynamics 365 F&O helps you keep a track of your finances and inventory without a hitch. It provides you the knowledge and insights your E-commerce outlet requires for long-term growth and expansion.
There are various ways in which Dynamics 365 for Finance & Operations enhances E-commerce. Following are some of the most prominent points:
Extensive business capabilities and applications
If you have been in a long quest for extensive online business applications such as financials, assets, or warehouse management, Dynamics 365 Finance and Operations is the best pick. It has multiple functionalities such as financial budgeting, managing purchase orders and workflow, and executing inter-company business transactions along with insightful reporting. When synchronized with complementary tools such as Dynamics 365 for Sales and Dynamics 365 for Talent, this ERP system provides additional benefits as well.
Reduction in cost
Dynamics 365 for Finance and Operations reduces your investment cost in two major ways. Firstly, it is hosted on Microsoft servers which saves the maintenance cost of your personal servers and hardware. In addition, it saves you a lot of space in your office which can be used for other productive tasks. Secondly, migration from Dynamics AX to Dynamics 365 for Finance and Operations just looks expensive but in actuality, it is profitable. In other words, you will be able to save more than you invest. Dynamics 365 F&O reduces day-to-day running costs and optimizes human resources for enhancing your E-commerce store.
Scalability
Dynamics 365 for Finance & Operations caters to not just the business requirements you have today but also what you will have tomorrow. It is an ERP system that fulfils your short-term and long-term goals. Therefore, the unmatched scalability offered by Dynamics 365 F&O leverages your growth in times to come. You do not have to go through the pain of restructuring later when your revenue and growth reaches the top tier. This advanced ERP system will be as new, a decade later, as it is in the present day.
Open to all platforms
Dynamics 365 for Finance & Operations is optimized for multiple platforms and mobile devices and applications. It comes with commendable customization options and its installation is uncomplicated and effortless. The software offers a clean, concise, and responsive user interface. This makes it easy for the users to tell the system what they want to do via clear communication whenever, from wherever and whichever device.
In-built analytical capabilities
Dynamics 365 F&O comes with an in-built analytical tool driven by Power Business Intelligence (BI). Apart from detailed reports and in-depth analysis, the most fascinating quality it possesses is that of real-time visibility of your finances. Additionally, when Power BI is combined with the voice-controlled virtual assistant, Cortana, you are able to fetch answers and solutions immediately. This greatly helps in studying the pattern of trends and developing your online business accordingly.
Predictive intelligence
No one can predict business trends to the dot. However, one can get a close estimate of the upcoming opportunities with the help of predictive intelligence. Dynamics 365 for Finance & Operations offers predictive intelligence that improves production efficiency, enhances marketing campaigns, and helps you stay ahead of competitors and meet the expectations of your customers and clients.
Smooth software integration
If you are able to smoothly integrate important business applications, your workflow will become faster with minimized errors. Dynamics 365 for Finance and Operations is capable of seamlessly integrating productivity tools, Internet of Things (IoT) applications, customer relationship management (CRM) system, Business Intelligence (BI), and more. By doing this, you will achieve a transparent business process that will have the capacity of taking up voluminous orders and delivering them in time.
Unique features
The health of a company depends on its strength to manage finance. Dynamics 365 for Finance and Operations flaunts unique features such as Global Entry Forms, Exchange Rate Integration, In-built Audit Workbench, Budget Planning and Control, Management Reporter, Cost Accounting and Allocation, and General Electronic Reporting. These exclusive features augment the productivity of the finance management team by producing financial reports and assessments that are flawlessly accurate and precise.
Data security
In recent times, data is more valuable than diamonds. Dynamics 365 F&O provides top-notch security against cyber data breach. Most of the time, businesses hire professionals for keeping their confidential data protected. This ERP system does it for free! In addition, it has a disaster recovery functionality along with providing round the clock technical support.
Conclusion
The points discussed establish how Dynamics 365 for Finance and Operations pushes you to the upper echelon of E-commerce businesses. However, before you carry out the implementation of your ERP system, you need to list the specifics of your business requirements. JIVA InfoTech will be more than happy to lead your Dynamics 365 F&O implementation based on years of expertise and market reputation. Drop us a note right away!