Create exceptional shopping experiences
Elevate your brand with Dynamics 365 Commerce. Deliver personalized, seamless shopping experiences across and digital channels.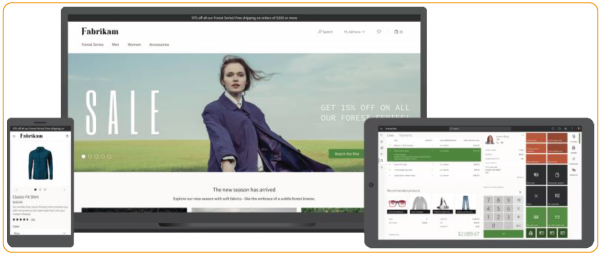 Dynamics 365 Commerce—built on the proven Dynamics 365 Retail capabilities—delivers a comprehensive Omni channel solution that unifies back-office, in-store, call center, and digital experiences. Dynamics 365 Commerce enables you to build brand loyalty through personalized customer engagements, increase revenue with improved employee productivity, optimize operations to reduce costs and drive supply chain efficiencies, ultimately delivering better business outcomes.
Everything to build and run digital commerce: Streamline your business and end-to-end commerce solution that scales to your needs across traditional and emerging channels. Built-in web authoring and development tools enable you to create engaging intelligent digital storefronts, while a connected marketing and headless commerce platform enables seamless management of content, assets, promotions, inventory, and pricing across channels.
Build loyalty and exceed customer expectations: Use clienteling tools to gain a comprehensive view of your customer and respond to their needs at every level of engagement, based on customer profile, history, and preferences that flow across physical and digital channels. Empower your employees to foster lasting relationships through AI-driven recommendations, customer insights, and loyalty programs that elevate brand appeal.
Flexible and intelligent omnichannel experience: Unify physical and digital commerce by providing consistent experiences to customers across cloud search and discovery, product reviews, wish lists, inventory, gift cards, and loyalty. Allow customers to purchase when, how, and where they want, on any device—while providing choice around modern payment methods and product collection or delivery.
Streamline operations using AI in the cloud: Drive omnichannel commerce experiences and integrated, optimized Backoffice operations through ingrained, pervasive, and context-aware cloud intelligence. Use advanced merchandising, inventory management, distributed order management, and pricing and promotion to innovate and stay ahead of competition. Derive insights by visualizing and analyzing comprehensive and consistent data across all aspects of your business. Use AI-driven technologies to provide accessible websites, protect your business against payment fraud, and efficiently moderate user generated content like ratings and reviews.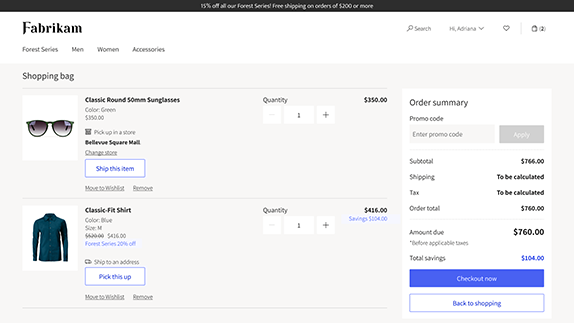 Engage customers across channels
Deliver a seamless, unified shopping experience by connecting digital, instore, and back office operations on an Omni channel commerce platform.
Offer consistent, frictionless engagement across online and offline channels. Let customers decide when, how, and where they want to purchase—on any device.
Provide choice and convenience with connected ordering and fulfillment tools. Let customers buy online and pick up in-store or receive home delivery.
Create and manage sales promotions across all channels, organized by store, catalog, or customer affiliation with accurate, realtime Omni channel sales and cost data.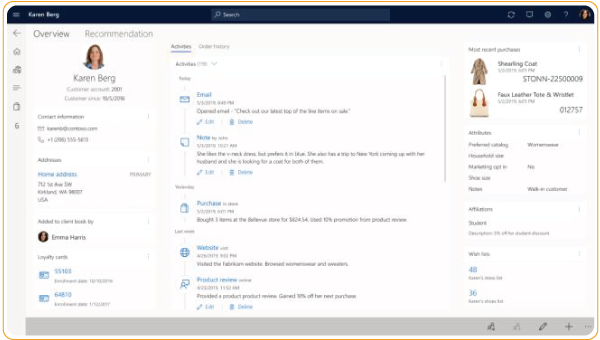 Build loyalty and exceed expectations
Personalize customer experiences across retail channels, helping exceed customer expectations through tailored product selection.
Expand customer choice through endless aisles, offering access to your full product catalog whether in store or online, regardless of stock levels or location.
Get a 360-degree view of your customer by adding Dynamics 365 Customer Insights. Connect physical and digital storefronts into a single view of transactions, observational data, and behavioral data.
Empower your employees to foster lasting relationships through AI-driven recommendations, insights, and loyalty programs.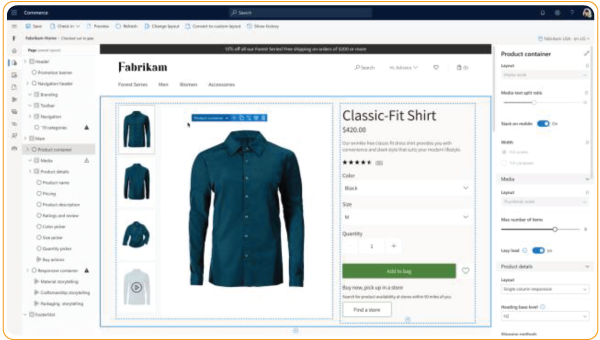 Get everything to build and run digital commerce
Create engaging, intelligent digital storefronts with built-in web authoring and easy-to-use development tools.
Better engage shoppers by delivering personalized, appealing web experiences with content-driven commerce strategies.
Streamline management across channels via a connected marketing and commerce platform—providing a single view of content, assets, promotions, inventory, and pricing.
Help customers find products easily—both online and in-store—with intelligent, contextaware product search.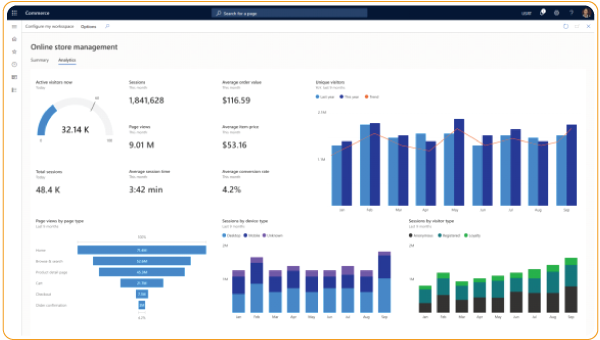 Streamline and optimize your retail operations
Maximize profitability with AI-driven recommendations of the right products at the right time and price
Get an accurate view of inventory, centrally tracking product information, categories, assortment, and pricing.
Make informed, cost-effective inventory supply decisions with advanced analytics and machine learning
Accurately forecast customer demand with actionable insights provided by historical sales and purchase data.
Streamline sourcing and replenishment, helping acquire the best prices from vendors and knowing the right moment to replenish inventory.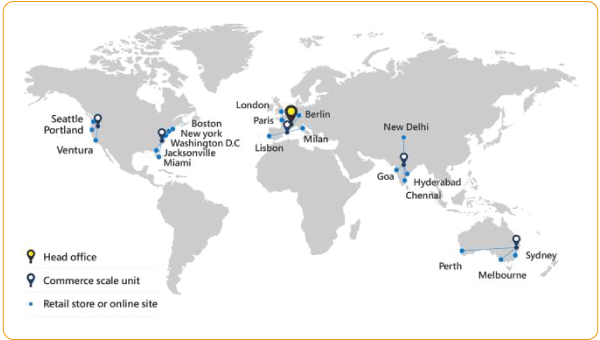 Get the flexibility and security you need
Meet your business needs across the globe with flexible deployment options whether on-premises, in the cloud, or at the edge
Customize your solution with a configurable and extensible platform that expands and grows to fit your business
Offer a unified experience across channels with an API-driven commerce engine that supports traditional, new, and emerging channels.
Proactively safeguard your data with cohesive security management and comprehensive compliance coverage.
Channels overview
Dynamics 365 Commerce supports three different channel types: retail, call center, and online channels.
Retail channels Retail channels represent standard brick-and-mortar stores. Each store can have its own point of sale (POS) registers, income and expense accounts, and staff.
Call center channels Call center channels represent call center order and customer management.
Online channels Online channels represent online e-Commerce storefronts. Once an online channel is created, a site be created using the Microsoft Dynamics 365 Commerce Site Builder tool or other third-party e-Commerce solution.
MPOS vs. CPOS
MPOS on a Windows, iOS, or Android device is an that is packaged, installed, and serviced on that device
Windows – The MPOS for Windows application contains all the application code and the embedded commerce runtime (CRT).
iOS/Android – On these platforms, the application acts as a host for the CPOS application code. In other words, the application code comes from the CPOS server on Microsoft Azure or the Commerce Scale Unit. For more information, see Commerce Scale Unit overview.
CPOS (Cloud POS) Because CPOS runs in a browser, the application isn't installed on the device. Instead, the browser accesses the application code from the CPOS server. Therefore, CPOS directly access POS hardware or work in an offline state.