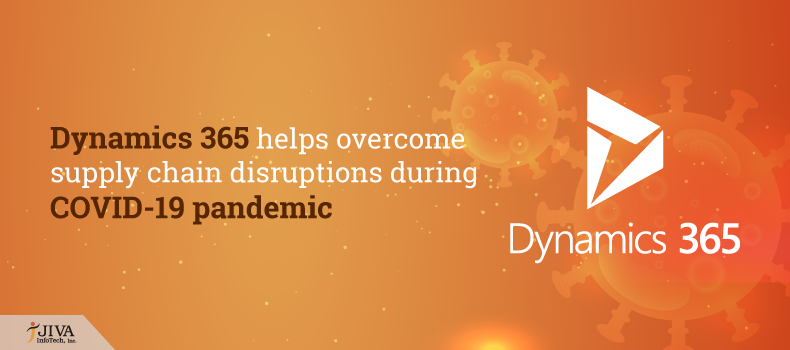 Dynamics 365 helps overcome supply chain disruptions during COVID-19 pandemic
The COVID-19 pandemic has disrupted supply chains across the world. The supply shock started in China followed by the demand shock, exposing susceptibilities in the production strategies and supply chains of companies, sparing no continent on the globe. It forced manufacturers to make hasty adjustments such as altering factory layouts and going digital with inexperienced staff at the same time trying their best to maintain quality and safety standards.
Undoubtedly, the pandemic has tested the resilience of supply chain leaders globally.
94% of Fortune 1000 companies are witnessing supply chain disruptions
75% of companies are seeing their business negatively impacted
55% of companies plan to reduce their economic outlooks
Business leaders are bound to take rapid and responsible decisions to sustain business operations to serve their customers and simultaneously protect and support their staff and workers. To address these challenges, firms must focus majorly on reskilling and cross-skilling to enhance the efficiency of their employees.
Dynamics 365 Guides and Dynamics 365 Supply Chain Management have come to your rescue!
The new updates to Microsoft Dynamics 365 Supply Chain Management aim at resolving these issues, strengthening frontline workers to adapt to increased complexity and rapidly changing business needs so that they can take the right decision at the right time.
Dynamics 365 Guides enables the employees to make use of multiple guided workflows to get a job done. The new enhancements will help them update content easily without the need of coding. At the same time, it complies with the standard working procedures and ensures the safety of the workforce.
What's more, by integrating Dynamics 365 Guides with Microsoft Power Apps and IoT data, companies can enable employees to identify and prevent equipment failure and drastically minimize costly downtime.
Achieving enhanced UI for workers by integrating Dynamics 365 Guides with Dynamics 365 Supply Chain Management
The integration of Dynamics 365 Supply Chain Management with Dynamics 365 Guides is made possible by Dynamics 365 Supply Chain Management's new production floor execution feature. The amalgamation provides frontline workers a contemporary, touch-friendly user interface (UI) that is pretty easy to use. It works wonders in badly lit spaces such as factory floors and assists workers manage multiple tasks simultaneously.
Overcome supply chain disruptions to achieve uninterrupted productivity
Manufacturers are in constant need of efficiently managing their products, enhancing them to meet the rapidly-changing market trends, keeping quality and safety intact, at the same time upholding the customer trust. It is both challenging and exhausting!
Microsoft offers you its novel Engineering Change Management add-in for Dynamics 365 Supply Chain Management that not only enables manufacturers to streamline product data management, but also helps manufacturers define, deliver, and revise products at their own whim.
With the help of this Dynamics 365 offering, it becomes extremely easy for companies to ensure compliance and carry out on-time delivery by instantly responding to changing supplier/customer specifications, safety standards, and regulations. They can overcome supply chain disruptions that occur due to quality issues by instantly resolving the arising issues. In this way, companies will end up running production successfully without interruptions.
Another common cause of disruption in supply chain is not having a smooth end-to-end business process flow between the operations and engineering teams. Can D365 fix this?
Yes, why not! With engineering change management capabilities in Dynamics 365, companies can minimize manual errors and material cost discrepancies when setting up bills for materials and inventory. So now, you can avoid errors that you used to make while aligning and registering data manually whenever old parts would turn obsolete and new parts were to be activated.
Improve visibility of your supply chain
One of the major causes of supply chain disruptions is lack of real-time inventory visibility across different channels. This information is required to ensure that the firms are stocking their distribution centers with the right mix and right quantity across the globe.
The novel Inventory Visibility add-in for Dynamics 365 Supply Chain Management enables manufacturers and retailers to handle voluminous transactions every minute and keep an eye on cross-channel inventory accurately in real time. From now on, it will be easy for companies to deliver orders through multiple channels without any delay and accurately alleviate stock-outs and overstocking.
Scale operations for your supply chain
While running operations in remote facilities, many of the companies struggle with latency and connectivity. Nearly 30 percent of manufacturers, face the challenge of network latency.
What is the leading cause for latency?
It is high volume and resource-intensive processes running parallelly, leading to reduction in productivity.
The novel Cloud and Edge Scale Unit add-ins for Microsoft Dynamics 365 Supply Chain Management enables companies to manage critical manufacturing and warehousing workloads on the edge in a distributed model with the help of Azure stack devices. This strengthens resilience and ensures uninterrupted running of operations even if you are temporarily disconnected from the cloud.
Conclusion
The COVID-19 pandemic has caused severe disruption in global supply chains that has lead to the need for operational agility. As explained above, Dynamics 365 Supply Chain Management capabilities enable manufacturers, retailers, and distributors to quickly adapt to the changing customer demands and ensure that the business is running smoothly and generating the desired profit.