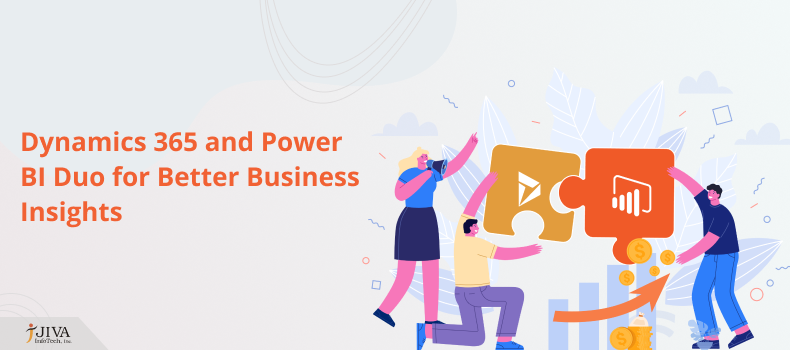 Dynamics 365 and Power BI Duo for Better Business Insights
The land you're sitting on could be an oil field, but if you do not know how to drill out the oil and use it, it is of no value. By the same token, data is the new oil provided you know the technicalities of mining it, to make the best use of it.
Microsoft Dynamics 365 combined with Power BI will help in data mining and acquire valuable business insights. To top it all off, these tools integrate to give you the best possible outcome. However, let us first get familiar with Dynamics 365 and Power BI.
What is Dynamics 365?
Microsoft Dynamics 365 is a powerhouse pertaining to CRM and ERP software. It is a set of intelligent business applications that helps you run your entire business and deliver greater results through predictive, AI-driven insights.
What is Power BI?
Power BI is a collection of software services, apps, and connectors that work together to turn your unrelated sources of data into coherent, visually immersive, and interactive insights. It generates reports and dashboards that help you instantly browse through the ongoing activities in your organization.
Power BI generates charts and visual reports to attain instant feedback. You can share these reports with your colleagues and carry out a thorough analysis that will help you make better business decisions.
Bringing together two powerful tools – Dynamics 365 and Power BI
Although, Dynamics 365 comprises native reporting capabilities, pulling in Power BI reporting accelerates the speed of operations and minimizes errors. When you use Power BI with Microsoft Dynamics 365, your company's business intelligence competencies shoot north instantly. Furthermore, you can fix a lot of productivity backlog issues by gaining useful sales insights. In other words, the combination empowers sales and enhances customer satisfaction.
Following are the benefits of using use Power BI with Microsoft Dynamics 365:
Obtain Real-time Reports – The process of generating real-time reports, charts, and graphs, and updating them to suit your business requirements becomes extremely easy when you use Power BI with Dynamics 365. The combination of these two powerful tools allows you to access and revise real-time reports from anywhere at any given time. It helps you setup automatic data refresh and publish reports granting users permission to avail latest information. Additionally, the union of Power BI with Microsoft Dynamics 365 helps you compare different types of data submitted by the departments to get hold of the exact information required to prepare an error-free customer report.
Personalize Dashboards – Most organizations and companies delegate a shared dashboard for all their departments. This is nothing but a blunder because collecting data from a shared dashboard can cause confusion, it requires more labour strength, and breaks the team's workflow time and again. On the other hand, by bringing together Dynamics 365 and Power BI, you can have personalized dashboards designed for different departments who can monitor data by merely browsing their specific dashboards. You have the freedom to customize these dashboards to meet the needs of any business enterprise. In addition, you have the option of embedding the dashboards and reports in applications to offer an omni-channel user experience.
Enhance Customer Service – By assimilating Dynamics 365 and Power BI tools, your business will be able to evaluate the demands and opinions of both existing and potential customers. The amalgamation helps you prioritize the customer service base and reduce the response time for answering their queries.
Obtain self-service analytics at enterprise scale – By combining Dynamics 365 and Power BI, you can reduce the additional cost, complexity, and security hazards of multiple solutions with a unified analytics platform which scales from an individual to the organization as a whole.
Protect analytics data – The duo helps you gain leading sensitivity classification and data loss prevention capabilities. In simpler terms, it helps in keeping your data secure and compliant, even when it is being exported.
Smart tools for strong results – The set of two smart and powerful tools helps you find and share meaningful insights with hundreds of data visualizations, tight Excel integration, built-in AI capabilities, and prebuilt and custom data connectors.
Boost sales – Power BI and Microsoft Dynamics 365 together transforms your sales team into a super-efficient, super-performing, and result-generating player. The merger enables you to track leads, sales opportunities, enrich the entire sales process, monitor customers, and increase sales revenue exponentially. Furthermore, it gives you a clear idea of your sales trends over a long time period.