What is Dynamics 365 Customer Engagement ?
Microsoft Dynamics 365 Customer Engagement (CE) is a leading cloud-based customer relationship management (CRM) business solution that can help you drive sales productivity and improve the value of your marketing efforts
Applications included in Customer Engagement
Microsoft Dynamics 365 for Sales
Microsoft Dynamics 365 for Customer Service
Microsoft Dynamics 365 for Project Service Automation
Microsoft Dynamics 365 for Field Service
Microsoft Social Engagement
Microsoft PowerApps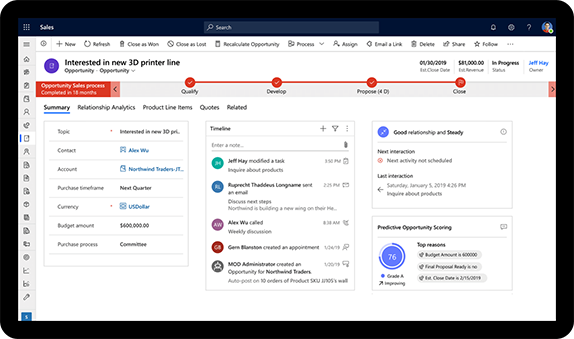 Microsoft Dynamics 365 for Sales
Activate digital selling
Empower sellers to build relationships
Boost sales productivity with seamless tools
Increase sales profitably
Innovate with sales solutions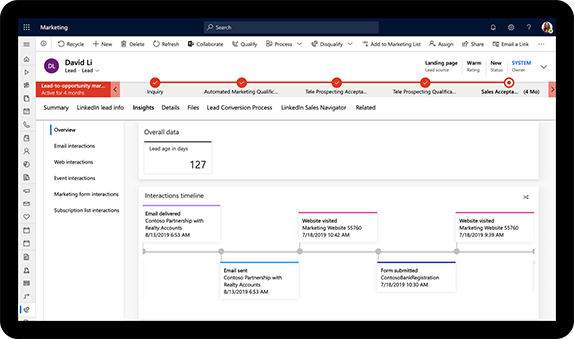 Microsoft Dynamics 365 for Marketing
Orchestrate customer journeys
Align sales and marketing
Make informed decisions
Grow with an adaptable platform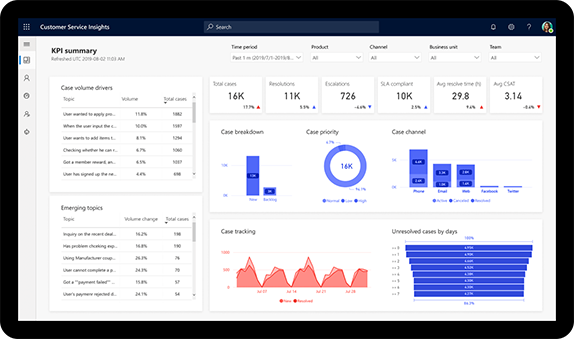 Microsoft Dynamics 365 for Customer Service
Get instant visibility into trends across all channels.
Resolve customer issues faster using AI, built into self-service solutions
Create true omni-channel experiences.
Services
Consulting
Our job is to help you make key decisions about technology investments. Our consultants bring valuable insights into the industry, helping you create a successful strategy and make decisions with confidence.

Implementation
We use our vast product knowledge to assist you in implementing the Dynamics software solutions. This your risks, while helping you implement solutions faster and more efficiently.

Support
We'll work closely with your to help you manage your business applications portfolio. Our seasoned experts also provide customized support.
Industries


Our portfolio of Implementation Services for Dynamics 365 Customer Engagement includes :
Discovery & Analysis
Requirements Documentation
Solution Design
Solution Demonstration
Business Process Optimization
Customizations
Integrations
New features development
User Trainings
Data Migration
Installation & Configuration
Business Continuity / Disaster Recovery
Our implementation methodology for Dynamics 365 Customer Engagement
Microsoft Dynamics Sure Steps offers a reliable methodology with the aid of project management tools, advice, and the best practices of field-testing all available with a user-friendly interface. That allows us to professionally deploy, migrate, configure, and upgrade Microsoft Dynamics.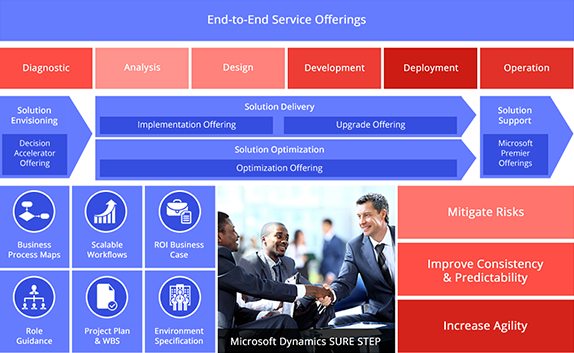 Microsoft Dynamics complex implementations and vertical developments are best suited with Hybrid Approach – Agile
Dynamics CRM & 365 Features Available Only in the Online Model
One of the major differences between Dynamics CRM & 365 On-Premise vs Online is that some significant functionality is only available in the online model:
Project Management capabilities – Dynamics 365 for Project Service Automation
Web Portals – self-service portals for customers, partners, employees or communities
Voice of the Customer – survey solution to manage questionnaires and other feedback Advanced Artificial Intelligence Capabilities – in-built AI based features like relationship insights, cross-sell recommendations are not available in the on-premise model
Organization Insights Dashboard – a user adoption tool that measures user activity
Gamification – another user adoption feature
Integrations with the online versions of Office apps – Excel Online, Word Online and OneDrive for Business
Mobile offline synchronization
Dynamics 365 for Marketing – the newly released marketing module
Microsoft Teams Integration
Playbooks – sales processes
Microsoft Flow integration
PowerBI integration
Consult us for best implementation strategy for your Dynamics 365 Customer Engagement Implementation.
Whatever you're ready for, we have the people, experience and solutions to make it happen.