Resolve service issues the first time, every time
The Dynamics 365 Field Service business application helps organizations deliver onsite service customer locations. The application combines workflow automation, scheduling algorithms, mobility to set mobile workers up for success when they're onsite with customers fixing issues.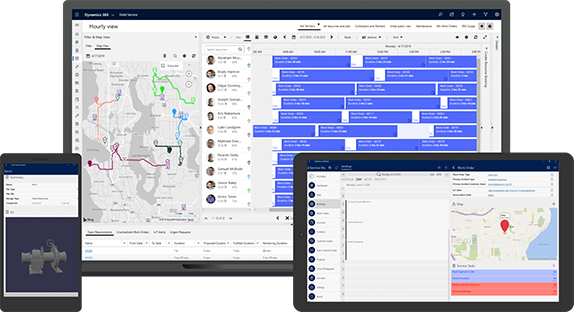 Dynamics 365 Field Service enables you to:
Improve first time fix rate
Complete more service calls per technician per week
Manage follow-up work and take advantage of upsell and cross sell opportunities
Reduce travel time, mileage, and vehicle wear and tear
Organize and track resolution of customer issues
Communicate an accurate arrival time to customers
Provide accurate account and equipment history to the field technician
Keep customers updated with the status of their service call and when it's resolved
Schedule onsite visits when it's convenient for the customer
Avoid equipment downtime through preventative maintenance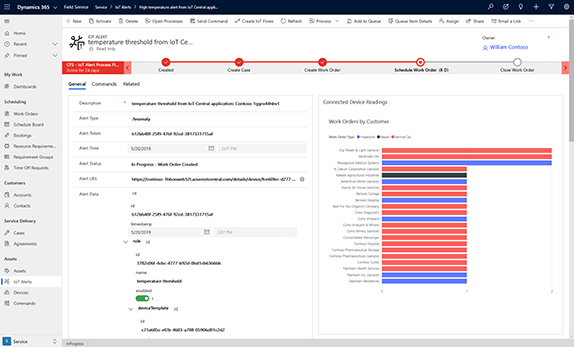 Deliver service proactively
Switch from a cost center to a profit center, moving from a scheduled services model to just-in-time predictive maintenance triggered by IoT data.
Remotely detect and resolve issues before they become a problem using Internet of Things (IoT) sensors.
Take decisive insights into customer assets, with combined capabilities across Dynamics 365 Supply Chain Management and Field Service, and define service-level agreements to help you meet—and exceed—expectations.
Increase customer satisfaction while communicating proactively with customers through automated voice and text appointment reminders.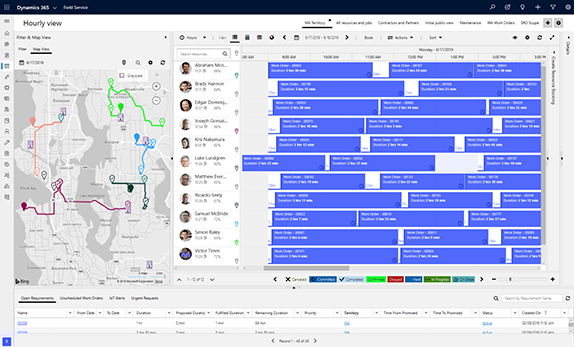 Schedule resources intelligently
Allocate right resources at the right time with
the right experience using AI-enabled scheduling
recommendations and manual, semi-automated,
or fully automated scheduling.
Efficiently assign resource by using a dragdrop scheduling board and interactive map to
schedule the nearest and most available
technicians.
Optimize resources with automatic scheduling that minimizes travel time and maximizes utilization while responding to delays, cancellations, and urgent work.
Monitor and track assets to keep technicians up to date, or connect to Dynamics 365 Finance and Dynamics 365 Supply Chain Management to synchronize data down to the truck level.

Key capabilities
Work orders to define the service work needed primarily (but not exclusively) at customer locations.
Scheduling and dispatch tools to manage resources and equipment needed for customer service, visualize onsite appointments, and optimize service schedules with efficient routing and resource skill matching.
Communication tools to enhance collaboration between customer service agents, dispatchers, field technicians, customers, and other stakeholders.
An easy-to-use mobile application that guides technicians through schedule changes and service work.
Asset management capabilities to keep track of customer equipment and service history.
Preventive maintenance by automatically generating recurring maintenance appointments for equipment.
Inventory, purchasing, and returns capabilities to manage truck stock, purchase order requests and fulfillment, and product returns.
Billing capabilities to generate invoices based on products and services delivered to customers.
Time tracking to help you track how resources are spending their time, whether they're traveling, on break, or working.
Analytics for reporting on key performance indicators for managing work orders, scheduling activities, and interacting with customers.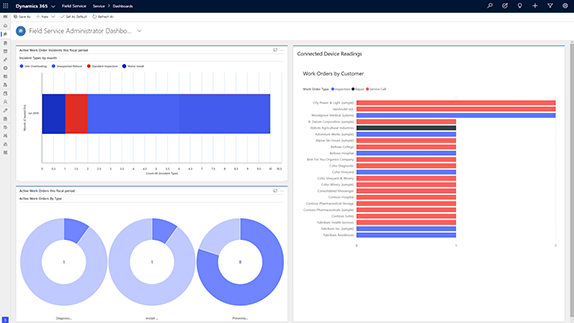 Ensure a first-time fix
Technicians can use in-context help with Dynamics 365 Guides and other mixed-reality tools that provide immersive, step-by-step procedures they can use while conducting maintenance.
Help new team members through Dynamics 365 Remote Assist video calls, allowing more experienced technicians to consult in real time.
Enable resources to manage work orders and appointment schedules, access turn-by-turn directions and customer data, and capture photos, videos, and voice notes with the mobile app.
Bot enabled help to locate customer and product information using Guides in the field.
Field Service roles
Customer service agents triage incoming requests and determine when to create work orders for onsite visits. Agents primarily use the application through a web browser.
Service managers track performance metrics and oversee service delivery, finding ways to increase efficiency and standardize processes. Service managers primarily use the application through a web browser.
Dispatchers review and schedule work orders, and assign them to resources on the schedule board through resource availability searches, and through a fully automated resource scheduling optimization add-in. Dispatchers primarily use the application through a web browser.
Field technicians manage their assigned work orders using the mobile app on a phone or tablet, and perform maintenance and repairs onsite at customer locations.
Inventory managers ensure field technicians have what they need to complete their service calls. Inventory managers also handle product returns and purchase new inventory. Inventory managers primarily use the application through a web browser.