Implement Dynamics 365 Finance & Supply Chain by using best
practices and Microsoft recommended
What is Dynamics 365 for Finance & Supply Chain ?
Microsoft Dynamics 365 for Finance and Supply Chain helps enterprises by enabling people to make smarter decisions quickly, transform business processes faster, and enable business growth at global scale. The complete ERP Dynamics 365 tools for operational management help enterprises to develop their activities at a fast pace. It provides immediate display of all-important numbers and data by means of analytical tools.
Dynamics 365 Supply Chain Management
Warehouse management
Customer order fulfillment
Inventory management
Master planning
Cost accounting and management
Procurement and sourcing
Production control
Sales and marketing
Vendor collaboration
Service management
Transportation management
Dynamics 365 Finance
Accounts management (payable and receivable)
Budgeting
Cash and bank management
Assets management
General ledger
Payment and terms
Financial reporting
Cost accounting
Expense management
Globalization
Regional regulatory features
Effectively manage and operate your Dynamics 365 implementation and governance with Lifecycle Services
Microsoft Dynamics Lifecycle Services (LCS) helps improve the predictability and quality of implementations by simplifying and standardizing the implementation process.
Lifecycle Services
LCS is a Microsoft Azure-based collaboration portal that provides a unifying, collaborative environment along with a set of regularly updated services that help you manage the application lifecycle of your implementations.
Methodologies in LCS provide a tool that you can use to ensure more repeatable, predictable implementation projects. You can use one of our methodologies, or create your own. With a methodology, you can easily track and report on your progress.
Obtain up-to-date project information using an intuitive dashboard from a single location
Use for projects from pre-sales to implementation and operations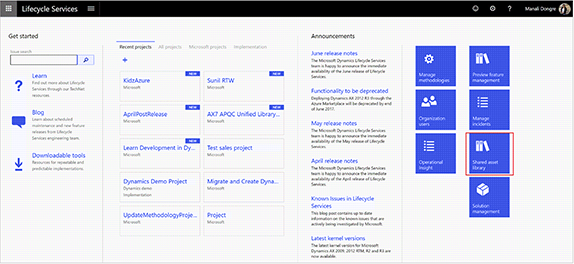 Tools that are provided in LCS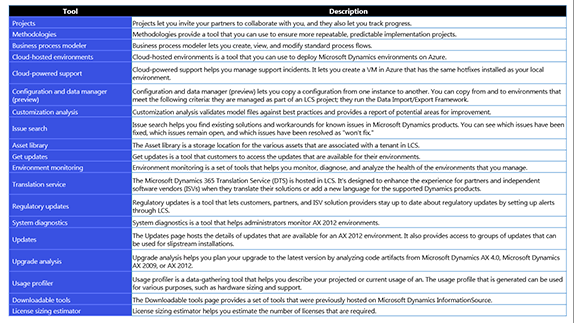 Microsoft Dynamics Sure Steps – Waterfall Approach
Microsoft Dynamics Sure Step Methodology is a comprehensive customer engagement and implementation methodology describing the processes and disciplines necessary to implement Microsoft Dynamics products.
Sure Step has been structured as a general methodology with a product-specific layer for each product. The general content consists primarily of prescriptive phase-by-phase and activity-by-activity for completing an implementation, and also includes information on the Project Management discipline

What are the phases of SureSteps Methodology ?
Diagnostic—To help the customer determine the right solution to meet their needs and obtain a key understanding of the solution requirements.
Analysis—The analysis phase defines the activities required to initiate and effectively plan the entire project.
Design—The design phase includes configuration of the overall Microsoft Dynamics solution and the design of specific customizations needed to satisfy business requirements identified during the Analysis phase.
Development—The goal of the development phase is to build and test the system components defined and approved in the design specifications, including developing the customizations, integrations and interfaces and data migration processes.
Deployment—The deployment phase is where all the efforts of the project team come together for a successful transition to the new Microsoft Dynamics solution. Key activities in this phase include End User Training, User Acceptance Testing and the actual cutover to the new or upgraded production environment.
Operation—The Operation phase defines the activities required to close the project, provide post -production support and transition the solution and knowledge to the customer
Microsoft Dynamics complex implementations and vertical are best suited with Hybrid Approach – Agile and Iterative

Choose between Cloud, On Premises and Hybrid Mode for your Dynamics 365 solution implementation
Why cloud
Cloud deployments provide a cloud service that is easy to scale up or down as needed, as well as data centers that fully managed by Microsoft. The time spent implementing Finance and Operations apps can be significantly fewer customizations may be required, and the costs of IT hardware and infrastructure are lower.
Why on-premises
With an on-premises deployment, existing data center investments can be leveraged. Customers can also configure their enterprise preferences to meet the regulatory and compliance needs of their business, comply with data sovereignty rules in regions where there are no Azure Data Centers, or ensure business continuity in areas with limited public infrastructure.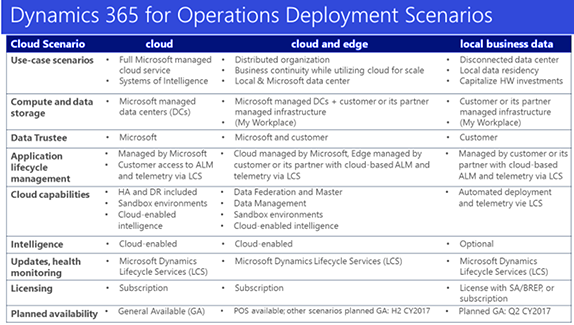 Consult us for best implementation strategy for your Microsoft Dynamics Implementation.
Whatever you're ready for, we have the people, experience and solutions to make it happen.