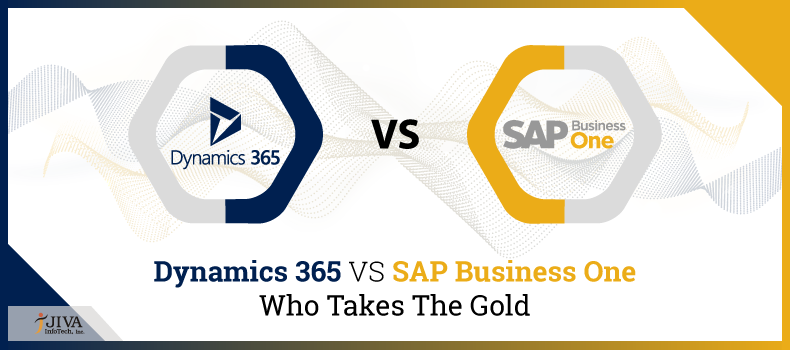 Dynamics 365 VS SAP Business One: Who takes the gold?
As organisations and companies evolve, grow, and become more complex, it becomes extremely difficult to manage the diverse data and maintain seamless coordination between various business departments. Picking the right ERP software is the way out. If your business has reached the phase when it demands ERP implementation, the reverberation of two names will stone deaf you – Dynamics 365 and SAP Business One!
Brandishing competent features, the two ERP gladiators have taken the market by storm. Cherry-picking one is not an easy job. Delving deep into the nature, type, and requirements of your business and accordingly weighing the pros and cons of Dynamics 365 and SAP Business One will help you make the right choice.
After extensively testing the waters for both, we have collected the following information:
Scalability
SAP Business One has been designed for small and medium-sized organizations. It struggles to adapt to the circumstances as the company grows in size. On the other hand, Dynamics 365 has the edge on scalability as it caters to an expansive range of industries and businesses of every size. It is designed robustly to grow with your company. If your business model changes and diversifies, Dynamics 365 won't fail you. It will continue to be your horseshoe as you run the E-commerce derby on a global track.
Customization
Having the prospect of flexible customization is a big plus. You can select the modules that suit your business requirement and discard the ones not needed. SAP Business One loses the battle against Dynamics 365 in customizability. Whether you need them all or not, SAP Business One deployment consists of ten core modules that have to be installed, leaving you with no choice. In case of Dynamics 365, you are given the flexibility to choose every module and customize a solution in adherence to your business requirements, processes, and operations.
Extendibility
The SAP Business One offers 37 applications but for the payroll function, the users have to turn to a third-party add-on. Quite the reverse, Dynamics 365 offers over 750 add-on solutions. In addition, it seamlessly integrates with Microsoft Word, PowerPoint, Outlook, and Excel. Therefore, in terms of extendibility, Dynamics 365 leaves SAP Business One miles behind.
Customer Service
In addition to email support, SAP Business One offers real-time telephonic and online support. However, the company is put at a disadvantage when it comes to providing dedicated customer training. For any sort of exercise, the customer is left high and dry in the hands of the implementation partner and user manuals. Conversely, Dynamics 365 provides round the clock support via multiple channels along with a dedicated customer training for all modules. Once again, Dynamics 365 steals the show.
Out-of-the-box workflow solutions
There is one feature that SAP Business One offers while Dynamics 365 does not, and that is, out-of-the-box workflow solutions. However, you have to adjust your internal processes to SAP Business One's processes to avail this benefit.
Conclusion
Deciding who takes the gold between Dynamics 365 and SAP Business One is a no-brainer! Dynamics 365 climbs the victory stand. The latest ERP offering of Microsoft enhances usability, flexibility, and scalability, it optimizes interoperability between departments, takes customization and extendibility to the next level, and possesses excellent integration capabilities. With its stellar features, it proves to be advantageous for start-ups, small enterprises, mid-sized businesses, and behemoths. The plethora of tools offered by Dynamics 365 streamlines business processes and helps you achieve more in less time. Without a doubt, it stands tall against other Ecommerce platforms including SAP Business One and is ideal for unprecedented long-term growth.