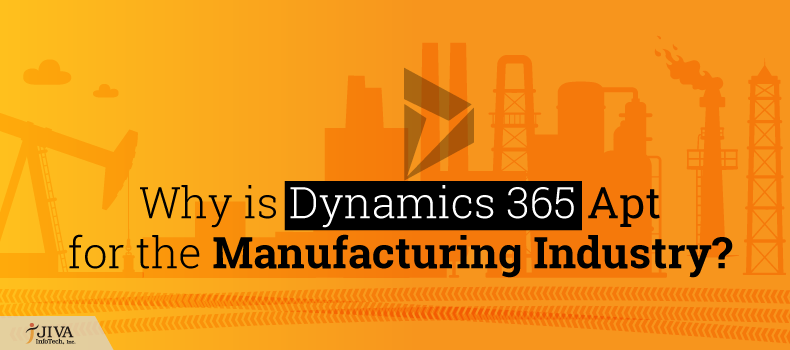 Why is Dynamics 365 apt for the Manufacturing Industry?
After the advent of E-commerce, customers have had an array of options to pick from. Consequently, their demands have increased by leaps and bounds, leaving the manufacturers grasping at straws. The conventional business practices have fallen flat calling for an immediate need for innovation. The manufacturing companies are in dire need of an efficient ERP system that can help them meet the expectations of customers and nurture customer relationships, at the same time, allow the manufacturers to reap the harvest.
To streamline business processes and justify ROI, Microsoft has given the manufacturing industry an advanced ERP system – Dynamics 365! It is a comprehensive, cloud-based assortment of apps that helps manufacturers centralize their operations, acquire transparent visibility of their processes, and create personalized connection with their customers.
The software solution has been tried and tested in various manufacturing scenarios. It is secure and receives regular updates from Microsoft. Dynamics 365 is an immediate solution for common challenges in the manufacturing industry such as lack of supply chain visibility, bottlenecks in internal business processes, inventory issues, strict compliance requirements, data duplication, system maintenance, and complicated customizations.
The following benefits provided by Dynamics 365 will help you understand how it fits the manufacturing industry like a glove:
Better visibility into business operations
Dynamics 365 helps manufacturers achieve better visibility into business operations by gathering, integrating, and accessing global supply chain data. By analysing such extensive data, manufacturers are able to swiftly overtake their competitors in the market. Furthermore, gaining access to data worldwide allows them to collaborate better across the production, supply, service, and sales departments. Last but not least, instant access to real-time data from any part of the globe helps the manufacturers address and resolve issues in the nick of time.
Better customer experience
In order to grow, you have to keep the customer happy. It is inevitable. To prevent that smile from wearing off from your customer's face, you have to provide them a pleasant shopping experience. For this, manufacturers have to be agile in responding to their customer's demands and requests. Dynamics 365 provides you the speed and ability to push through rush orders, update and edit orders, and to prepare for sudden changes and forecast their consequences. By using the ERP's intelligent reporting and predictive analysis, you can deeply analyse every customer's history of purchases and activities and tailor your services accordingly for each one of them. In this way, you can provide them with the finest shopping experience ever.
Rightly channelizing data to your benefit
Data is the new currency. It is said that the Third World War will either be for water or data. Centralizing business data helps manufacturers determine the health of their company. When you couple this centralized data with the built-in AI capabilities of Dynamics 365, you can acquire actionable insights and stay ahead of competition by making accurate predictions of demand and market trends. As a result, you will cut down on wastage of resources and multiply sales in rapid succession.
Streamline asset and product management
Dynamics 365 enables manufacturers to monitor the status and manage assets, products, and production in real-time. Even the tiniest of issues can be quickly and remotely dealt with, be it longevity, consumption, performance or any other inefficient components. These additional insights allow manufacturers to offer value-added services such as round the clock support, thereby, leading to enhancement in customer satisfaction.
Conclusion
Let us cut to the chase. Every business is run to earn profits from it. If an addition to or subtraction from the business multiplies its profit, the course of action is worth every penny. Dynamics 365 is apt for the manufacturing industry because it increases profitability by streamlining business processes, giving a better visibility into operations, enlarging customer base, and enhancing customer loyalty. So that no stone is left unturned, it is important to mention the importance of an agency that will help you successfully carry out the implementation of Dynamics 365. Keeping that in mind, a name that stands out in a crowd is JIVA InfoTech. Neither are we exaggerating nor patronising, but for our adept engineers, rightly implementing Dynamics 365 is equivalent to taking a walk in the park. Drop us a line whenever you need us!