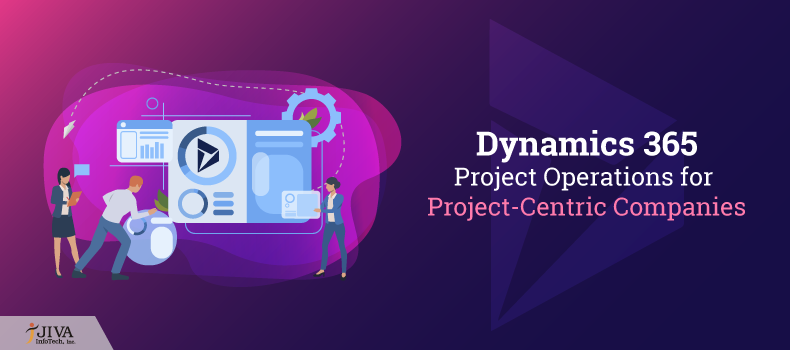 Dynamics 365 Project Operations for Project-Centric Companies
Lately, project-based businesses are in fine fettle. However, the soaring competition has made it challenging to win deals. For earning profits, access to real-time data is required to streamline the operational workflows and generate the desired output. A centralized actionable data knits together all the teams – project management, sales, and finance. It offers the transparency and collaboration needed to stay ahead of the competition.
The introduction of Dynamics 365 Project Operations application by Microsoft is a boon for project-centric companies. This application seamlessly integrates Dynamics 365 Finance, Dynamics 365 Project Service Automation, and Microsoft Project Web, offering an end-to-end solution. Right from the initial quote to complete project accounting, from time and expense to business intelligence, Dynamics 365 Project Operations speeds up delivery and empowers employees.
Project Operations is fully based on the Common Data Service (It allows you to store and manage data utilized by business applications). With the tools of the Power Platform, D365 Project Operations can be seamlessly extended and customized. This allows you to align it with your business requirements flawlessly. In times to come, it is expected that Dynamics 365 Project Operations will beef up the ability of Microsoft to cater to project-based service organizations wholly.
The novel features and benefits of Dynamics 365 Project Operations that makes it stand out are as follows:
Makes the life of project managers and resources easy
Dynamics 365 Project Operations is a boon for the project managers. It comprises various state-of-the-art tools and a Microsoft Project workspace that simplifies project management to a large extent. In addition, the smooth tracking of time and expense along with the collaboration tools help project resources complete their work in a breeze.
Accurate business insights
It is imperative to have visibility and transparency in data while running any business. Leveraging on this clarity you generate on-point business insights that help you make financial decisions. Dynamics 365 Project Operations provides you with accurate business insights backed by artificial intelligence. The application speeds up business processes and enhances visibility across data, teams, and processes for making quicker and better financial decisions. You will never have the trouble of underselling or overselling as this application keeps you updated on your inventory.
Enhanced collaboration
It is a serious issue when your employees fail to answer customer problems properly due to failed coordination. If there are delays in assisting customers and clients, your business is hampered which in turn it impacts your image. An organized teamwork creates wonders. Impeccable coordination is the key to excellent teamwork. Dynamics 365 Project Operations allows teams across your company to be able to work in a unified fashion with visibility and transparency across front-end and back-end processes. All your financial strategies can be built around this centralized data source which is in real-time and accurate. Thus, your productivity and profitability will increase manifolds
Take your business to the next level
When you have taken an idea and developed it into a successfully running business, the next step is to upscale it. However, you need a super system to be able to compete with the big players in the market. Dynamics 365 Project Operations helps your business evolve with its end-to-end solution. The flexibility and ease of customization and extension it offers is class apart. It allows you to add on another D365 application or custom application built with Power Apps. As both share the same privacy, security, and compliance abilities of a cloud-delivered solution, it creates a common ground for working efficiently and coordinating effortlessly. The better the coordination the faster the productivity
Improve sales by beating the competition
Market competition is no less than warfare where the aim is complete domination. Every company out there wants to capture the entire market. In such a scenario, increasing sales and staying at the top is like biting the bullet. Dynamics 365 Project Operations is the solution. When you connect this application with Dynamics 365 Sales, it enables you to win more deals and increases the sales with quick and accurate quotes. In addition, it offers flexible pricing and smooth transitions from quote to execution. Therefore, it has a direct impact on revenue generation and the future of your business.