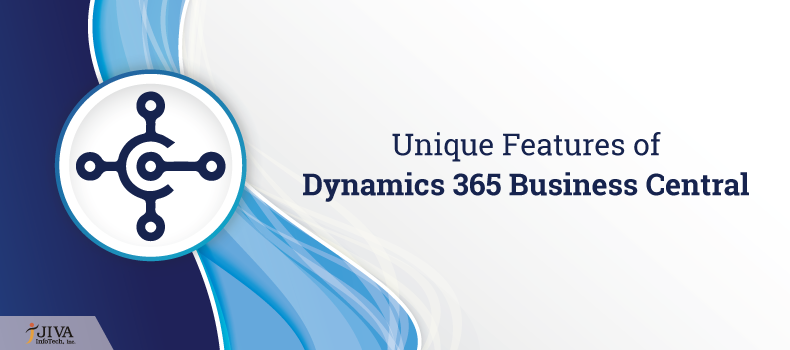 Unique features of Dynamics 365 Business Central
The ERP – Dynamics NAV has been performing considerably well by filling a need for SMBs. With a whopping figure of over 1.5 lac clients and exceeding 27 lac users, it stands to reason that Dynamics NAV is a success. Despite it being alive and kicking, what is pulling the crowd to upgrade to Dynamics 365 Business Central?
Business Central takes up the challenges faced by on-premises and provides a solution that is cost-effective, more secure, fast, and holds low-risk. The major difference between Dynamics NAV and Dynamics Business Central is that the former is hosted on-site while the latter is hosted on cloud. Dynamics 365 Business Central brings along the full muscle of Dynamics NAV to the cloud. It makes your work smarter and more productive with the help of smart notifications and personalized feeds. It unites different departments of your business in a seamless fashion with automated workflows.
There are some unique features and benefits that make Dynamics 365 Business Central as large as life:
Managing finance with ease
With the help of Dynamics 365 Business Central (BC), you get a sharp image of the entire business process as you are able to link together the inventory, sales, purchasing, and accounting departments. It greatly impacts your financial decisions and helps you grow with proper planning. Business Central provides you the ease of working out your budgets in ledger accounts that enclose all your business transactions. You can also add infinite dimensions to your ledger for acquiring a better analysis of the business transactions. You can expand your business and take it to the international level as BC allows you to create and operate multiple bank accounts across different countries and currencies. In addition, the ERP system automatically assigns audit trails that track the detailed transactions made with regards to any item in your accounting records. Thus, you have an eagle eye on all your receivables and payables. Finance management becomes a cakewalk with Dynamics 365 Business Central.
Inventory, sales and purchase order management
Imagine how adversely your business will be affected if you have demand for a product but your inventory doesn't have it in stock because it wasn't updated. Dynamics 365 Business Central comes with built-in intelligence that automatically updates your inventory as it can forecast when and which products are to be refilled. This reduces shortages and eradicates lost sales. BC helps immensely in sales and purchase order management. It is well-equipped to manage purchases, blanket purchase orders, purchase order processes, sales orders, sales order processes, and blanket sales orders. This feature is majorly beneficial for E-commerce wholesalers and big retailers.
Human resources management
Managing human resources is not a child's play but when it comes to Dynamics 365 Business Central, it is! You can maintain detailed information of your employees from contracts and confidential documents to contacts and qualifications. In addition, BC allows you to organize employee data by categorizing them under education, training, skills, and experience. It's not the end my friend as this awe-inspiring ERP system keeps a track of the reimbursements to be made against the expenses shelled out from the pockets of employees.
Sales enhancement
Dynamics 365 Business Central is a foolproof formula for enhancing sales. It can ladder the sales leads depending on the revenue each can generate. BC keeps a precise record of top opportunities related to cross-selling, upselling and renewal. Last but not least, it catalyses the sales process by acting speedily on sale inquiries and payment processing.
Built-in Artificial Intelligence (AI)
Dynamics 365 Business Central has built-in artificial intelligence that helps you keep a track of the changing patterns in your business, thereby, saving you time and effort. What's more, the AI minimizes data entry as it helps you streamline tasks. For case in point, reading the image, identifying the product, filling in most of the fields, and automating a part of the product setup, is carried out by BC whenever you upload a product image.
Integrating Dynamics 365 Business Central with Power BI offers added benefits
Power BI pulls real-time data from all the systems, thus, analysing it on Business Central becomes effortless. In addition, Power BI makes use of artificial intelligence to study changing patterns in your business. You have the liberty of exporting Power BI content to Excel, Word, or PowerPoint for preparing presentations and generating reports at any given time.
Integrating Dynamics 365 Business Central with Outlook makes business emailing seamless
The integration between Outlook and Business Central makes business emailing plain sailing. If your customer emails you, you can reply directly from Outlook without having to exit the inbox. You can create and post quotes and invoices too. Importing and exporting documents or entering data manually is not required.
Conclusion
You are not alone, every company faces challenges in managing finance and resources. According to the latest research, 50 per cent of the companies find report generation a roadblock while 54 per cent of companies face business process issues. In addition, no customer will visit your E-commerce website if your business process is running on outdated technology. Therefore, buckle up and get a Dynamics 365 Business Central implemented right away by dropping a line to JIVA InfoTech.