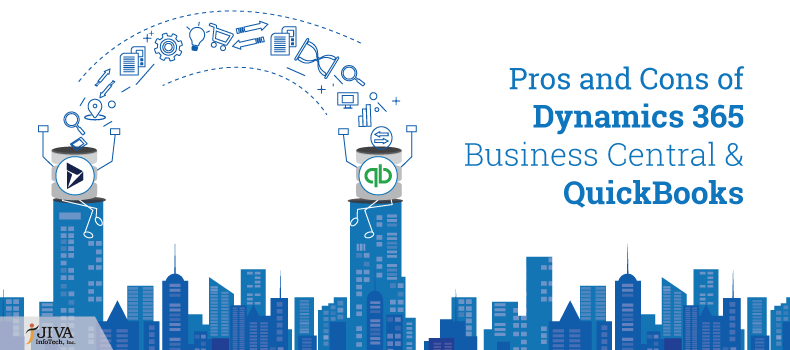 Dynamics 365 Business Central and QuickBooks: Pros and Cons
Irrespective of their nature and size, nearly every business today has put to use an accounting software system to ease their burden of managing day-to-day transactions. As the market showcases multiple businesses, there are plenty of accounting software available depending on the varied business objectives and requirements. However, cherry-picking one is no big deal because there are two accounting software that have secured top positions by popular demand – QuickBooks and Dynamics 365 Central.
Rated high in overall performance, these accounting software have certain features that classify their suitability for different sizes of businesses. We will walk you through their pros and cons so that at the end of this blog, you have a clear picture of both the software and you are free from doubt in making the right pick for your business.
Pros of Dynamics 365 Business Central (BC):
Customizable according to the industry – In recent times, apps are gradually covering the length and breadth of markets. They are easy to use, faster in processing, and available at your fingertip on your smartphones. Dynamics 365 Business Central liberates you to create apps that align with your business requirements. You are free to customize these apps for creating a better reach to your customers, making it easy to use for them in terms of functionality, highlighting your USPs, and handing out personalized offers after analyzing customer behavior.
Complete financial management – Dynamics 365 Business Central helps you connect data across inventory, purchasing, sales, and accounting, to provide a complete clarity of your business. In addition, it keeps a track of your financial status in real-time with the help of its pre-installed Power BI dashboards.
Web-based reporting – Dynamics 365 Business Central offers advanced web-based reporting including power bill reporting, standard reporting, sales reporting, analysis of cash receipts, everyday order, and salesman performance. This kind of thorough and conclusive reporting helps you make business decisions hands down.
Compliance – With businesses expanding globally, it is important for companies to have cognizance of the different laws in different countries so that they can modify their software accordingly. Dynamics 365 Business Central expedites this process so that you are able to comply with the local laws. What's more, it makes your business multi-lingual and multi-currency.
Cons of Dynamics 365 Business Central (BC):
Too complex – Dynamics 365 BC is not just an accounting software but a full-fledged ERP. This makes it more complex for very small businesses. In other words, it offers more than these businesses require and that extra turns out to be wasteful.
Expensive payroll deployment – Payroll management is an essential part of handling finance in a company irrespective of the enterprise's size, type, and nature. In this case, Dynamics 365 BC has a drawback because deploying payroll in its system calls for a huge investment.
On-premise shortcomings – Going with the on-premise option of Microsoft Dynamics 365 Business Central means you pay for your servers their storage space, electricity, and future updates. This version has weak data security prone to cyberattacks. It demands regular attention from your IT team. In addition, the maintenance becomes costly in the long-term.
Pros of QuickBooks:
Well-established in the market – In 1983, the same year when Artificial Reality originated, QuickBooks too embarked its journey in the virtual world. Since then, it has established a firm ground in the market. Its commendable market presence is clear evidence of how it has benefitted businesses over the years. According to Wikipedia, QuickBooks held a market share of 74 per cent for small businesses in the year 2005. Single out a few and there is no one experienced accountant who does not sing the praises of QuickBooks.
Variety of options for deployment – Apart from being available on-premise, QuickBooks can be hosted on the cloud. The flexibility of deployment does not limit here as you can run it in a single-tenant configuration. This clearly states that you have the choice of shifting the application from a private to a public cloud.
Multiple versions – According to your budget and requirement, QuickBooks is available in multiple versions such as QuickBooks Online Plus, Enterprise Solutions Gold, Enterprise Solutions Platinum, and Enterprise Solutions Silver. You can opt for the one that suits you the best.
Easy to use – If the customer can use a software effortlessly without any external help, the creator of that software has mastered the user interface. A perfect example of this is QuickBooks. It offers a virtual orientation programme that teaches you how to install and setup the system. What's more, the functionalities of the software are so simple that it hardly takes more than a click to convert your command to action.
Financial reporting and sales invoicing – QuickBooks provides you the option of effortlessly generating different kinds of financial reports in a breeze. These include annual income expenditure and future budgets. Moreover, for your convenience, these reports can be directly exported into spreadsheets and mailed to different departments and concerned authorities. In addition, QuickBooks keeps a track of your sales and generates invoices for the same that can be mailed to your clients and customers.
Cons of QuickBooks:
Weak security – QuickBooks comprises weak user permissions which makes it pretty easy for any user to have access to confidential and sensitive data. At times of data breaches, you might lose extremely important data and it might cause serious damage to your company.
Irregular audit trails – Audit trails are significant for corporate compliance and maintaining rules and regulations. QuickBooks fails to keep an account of the changes to master records, logoffs and logins. In addition, irregular audit trails cause lots of trouble in a multi-user system.
Scalability – Scalability is a major challenge for QuickBooks. After a time, you have to deal with system responsiveness issues and hardware upgrades problems. For case in point, when the number of business transactions allotted per month exceeds a dedicated figure or the system is being accessed by multiple users at the same time, QuickBooks begins to slow down in its processing.
Few reporting options – The reporting options offered by QuickBooks are pretty basic as they only scratch the surface. It lacks advanced business insights and in-depth financial analytics. This greatly affects the monetary decision-making of the company.
Dynamics 365 Business Central or QuickBooks: Which is right for your business?
To put it upright, there are certain scenarios where QuickBooks is better while there are other cases where Dynamics Business Central takes the lead. For start-ups that are growing and require an efficient entry-level accounting software solution, QuickBooks saves the day for such businesses. On the other hand, for large companies that carry out inter-state and international trade need a robust financial management software solution like Microsoft Dynamics 365 Business Central.
While QuickBooks proffers branding and longevity in the realm of accounting, Microsoft Dynamics 365 keeps the competition going by offering multiple additional features and flawless integration with Microsoft applications. Therefore, choosing the right accounting software completely depend on your business size and requirements.
If you want to pick the right accounting software without any confusion, drop a line to JIVA InfoTech right away. We will hold your finger and guide you to what is right for you!