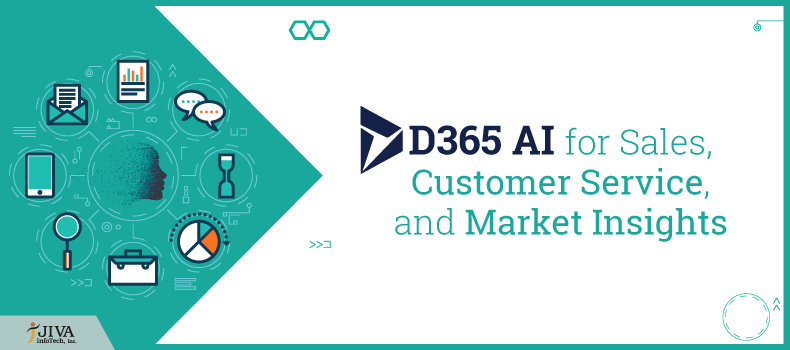 D365 AI for Sales, Customer Service, and Market Insights
The advent of artificial intelligence (AI) has led to the creation of intelligent machines that think and function like humans. This advanced intelligence can analyse customer behaviour and provide out-of-the-box insights like never before and empower E-commerce companies to make informed decisions.
After in-depth research, E-commerce analysts have concluded that when the highly sophisticated ERP and CRM system, Microsoft Dynamics 365 AI, empowers three particular applications – Market Insights, Customer Service, and Sales – the online revenue generation shoots to the next level. As the owner of an E-commerce store, you will want to benefit from this technological marriage. This blog will guide you to understand the many benefits this implementation can bring to your business.
Dynamics 365 AI for Sales
The AI capabilities in Dynamics 365 for Sales analyses the views, opinions, and feelings of customers and offers you in-depth insights that help to prioritize business deals which matter the most. It guides you to the next-best action and create personalized interactions with your customers. By making use of these insights you can minimize the waiting time of your customers and enhance customer satisfaction. In this manner, you will be able to improve response rates and build better relationships with your customers.
Apart from this, the Dynamics 365 AI for Sales helps you evaluate and improve the performance of sales teams through hands-on coaching and in-depth analysis of sales pipelines. In addition, analyzing customer calls using artificial intelligence (AI) proves to be extremely beneficial. The D365 AI for Sales features talking points that analyses live and recorded conversations with customers. It provides you with references to upcoming events and holiday trips that your customers are looking forward to. To summarize, artificial intelligence in D365 analyses customer requirements and boosts sales by helping you stay ahead of the market.
Dynamics 365 AI for Customer Service
If you serve your customer in a manner that he is satisfied, it is but natural he will return to you and also recommend you to others, thereby multiplying your profits. With the introduction of artificial intelligence in Dynamics 365, customer service has become smarter, more accurate, and offers better insights. It provides you with significant data related to operations, customer service performance, and predictive analytics for emerging market trends.
Dynamics 365 AI for Customer Service uses two technologies – Power Business Intelligence (BI) and Natural Language Processing (NLP). The former generates reports on the front-end. To do a comparative study or get a second opinion, reports can be obtained from a partner company as well. With the help of automated insights, the latter comprehends and forecasts customer service issues and creates enhanced customer service experiences for the near future. Dynamics 365 Artificial Intelligence (AI) is a genius as it can generate customer satisfaction scores, use dashboards for grouping your problems in an organized fashion for faster resolving rates, and predict customer engagement patterns with unbelievable accuracy.
Dynamics 365 AI for Market Insights
The AI-driven market insights offered by Dynamics 365 is phenomenal as it precisely guides you to recognize market trends, forecast them and act accordingly. Artificial intelligence helps you read the mind of your customers through their searches, their comments on products, and their interests and preferences. Once you are well-acquainted with customer behaviour, no one can stop you from becoming an E-commerce leader in your domain. By constantly studying customer behaviour, you can have a fair idea of the growing demand for certain online products for which you can provide lucrative offers and discounts to hoist up sales.
With the help of Dynamics 365 AI for Market Insights, you exactly know where and how to brand your products so that it attracts potential customers and captures the market as time passes by. In addition, if you have such a fine grasp of the thought process of your customers, you will not just offer them what they want but you can also drive and direct them to what more they should buy.
Robots are nowhere close to human intelligence
Although, artificial intelligence is making great strides, it needs a human to feed in data of customer interactions, according to which it provides insights. However, you can replace losses with profits with the help of Dynamics 365 AI for Customer Service, Market Insights, and Sales. Being an E-commerce business owner, you should never forget the fact that satisfied customers are the best source of advertisement. If you do not make use of Dynamics 365 AI for understanding and appreciating your customers, someone else will. Therefore, stop brooding and start acting.

Drop a line to JIVA InfoTech, and we will make your implementation process a piece of cake.