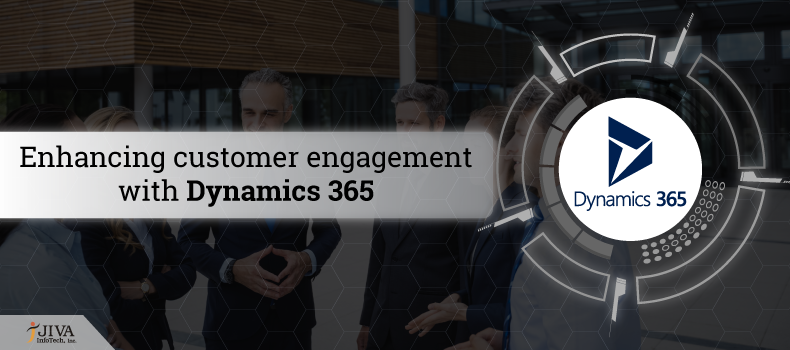 Enhancing customer engagement with Dynamics 365
Every successful business on the face of the earth, whether B2B or B2C, has got one thing right – Customer Engagement! Such companies have invested loads of energy, time, and effort in building long-term relationships with their customers by deciphering how their customers consume information. Today, what every consumer out there is looking for is an extremely tailored and personalized purchasing experience.
Dynamics 365 has raised the bar for customer engagement and is widely benefitting companies with its capabilities of creating interactive customer journeys that automate personalized interactions with customers, right from the beginning to end of their experience.
Let us have a look at how you can improve customer engagement with the help of Dynamics 365.
1. Convey a message to your customers
For enhancing customer engagement, you need to first engage with your customers at a personal level. Dynamics 365 enables you the access to valuable insights that you require while composing a compelling message. The software provides you with all your customer's journeys starting from what they bought to the issues they faced while purchasing and how the issues were resolved. These insights will help you cater to their needs at micro level.
2. Lead management with automated campaigns
With the help of Dynamics 365 you have the option of creating campaigns, emails or landing pages that possess a spontaneous interface for drawing in potential customers. You can configure and personalize templates, carry out event management seamlessly and in the process, keep nurturing and managing leads.
3. Associate orphaned leads with a contact and create marketing segments by querying lead records
Some of the features in Dynamics 365 demand each lead to have a contact associated with it. However, many of the sales processes create leads at the very first step, due to which these leads do not essentially have a contact record linked with them. A Dynamics 365 custom workflow can resolve this issue flawlessly. It automatically generates and associates a contact record for every new or existing unidentified lead record.
While creating contacts from an orphaned lead, you make marketing contacts easy to tell apart from sales contacts. In simpler terms, you set up custom views showing the right contacts to the right people. In addition, it will make sure that leads qualify with marketing first, before moving to sales. Furthermore, it will help you in maintaining a clean database of qualified and non-qualified contacts while eliminating the chances of duplication.
4. Better decisions arise from better insights
To make informed and profitable decisions, you should know your customers inside out. To know your customer thoroughly, you have to have accurate customer insights. Dynamics 365 allows you to create online forms and store the data to recognise customer interests and market trends. In addition, the tool enables you to generate scores based on the parameters listed by you.
5. Deliver the right marketing message to the right target audience
The first step is to identify the online groups that are most interested in your marketing message. Dynamics 365 has multiple ways to segment your customer, prospect and partner data, and generate a targeted distribution list to enable you to carry out personalised communication.
It is essential to identify the language and priorities of your audience before sending your marketing message. The marketers focus on lead generation, and the right tools to screen and enhance their efficiency while the manager level professionals are more concerned about profitability. You can take your customer engagement to a whole new level by identifying and directly catering to the needs of your audience.
6. Automatically generated contacts to be separated
Dynamics 365 enables you to make use of a flag on the contact entity titled – 'marketingonly.' This helps you differentiate between contacts that have been automatically generated for marketing-only from other kinds of contacts. In the process, you simplify the job of the sales team. The flag makes it easy for salespeople to set up list views, which in turn helps them to view sales-qualified contacts only, thereby, saving both time and effort.
7. Drive customer engagement with self-service portals
Customer self-service portal is a combination of contact centres, technical support teams, CRM systems, and product or service information behind a single online omni-portal for customers to access whenever they need it. Self-service features encompass self-resolution of issues via knowledge base, self-logging of incidents, password reset, service requests, collaborative spaces, and chat services. The portal offers customers a quick and direct way of obtaining answers to multiple questions and resolving various issues. It is a proficient way of outreaching to novel customers and improving company-customer relationships.
8. Pick the right timing and the right frequency
Time is money and right time is treasure. It is imperative to take into consideration frequency and timing when creating a customer engagement campaign. Timing means that you should not be talking about the financial year in the month of September or recommending a renewal instantly after you have bought a product or service. Dynamics 365 alerts you to customers' recent issues and informs you the right time to recommend an upgrade or acquisition of an add-on product or service. In other words, strike the iron while it's hot to gain maximum profit.
To stay ahead of competition marketing campaigns are a must, however, its frequency has to be regulated to reap its benefits. More doesn't always mean better. Flooding your customers with such campaigns might backfire. Dynamics 365 helps you create compelling content and post them at the right frequency. Whenever the customer needs help and he finds you, you will improve customer loyalty, satisfaction, and engagement.