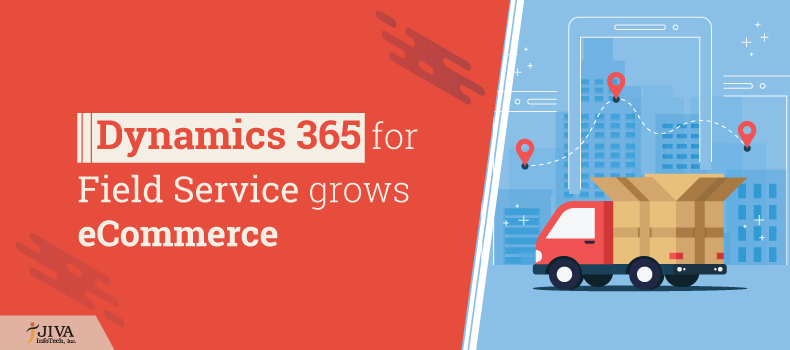 Dynamics 365 for Field Service grows E-commerce
An anonymous writer once stated that ordinary people think of just spending time while great people think of managing it wisely. If one can make the best use of it, there is no currency more powerful than time. When you run an E-commerce store, you have too much on your plate, therefore, managing multiple tasks turns out to be extremely challenging and time-consuming. Microsoft identified this vicious cycle and provided a way out of it in the form of Dynamics 365 for Field Service.
Let us begin from the beginning – What is Dynamics 365 for Field Service?
Have you invested a fortune in your online business? If yes, you have the opportunity to get a hefty return on investment by implementing the sophisticated management software – Dynamics 365 for Field Service. It is not just software but a management giant that envelopes the management of resources, inventory, work order, and client assets. This is no more than a glimpse of the software's capabilities as it undertakes a sight more tasks such as service agreements and locations, scheduling and dispatching, transport management, final billing, and discerning analytics.
Delving deeper, let us provide you with an insightful briefing of the benefits that can be derived from Dynamics 365 for Field Service for growing your E-commerce business exponentially:
Inventory management
Imagine, what chaos your online business would be if you are unable to manage your inventory efficiently. You would miss sales due to stock-out items, followed by losing customers. At times, you might overstock products that have little demand in the market, leading to increased warehouse costs, followed by unnerving losses. All your frowns can be turned into smiles with the implementation of Dynamics 365 for Field Service that tracks real-time inventory status and keeps an eagle eye on the current orders, payables, and receivables. What's more, customer assets can be managed in a breeze with this software. Orders will never be delayed if the inventory is up to date. The field service staff can seamlessly carry out the deliveries in time, resulting in improved customer satisfaction.
Customer service like never before
Transparency in business builds customer trust which in turn builds your business. Dynamics 365 for Field Service takes transparency to the next level as it provides your customers the freedom to track the live location of their products being delivered by your field service engineers. Once a product is delivered your customer can sign it off using the e-Signature functionality inbuilt in the Field Service application. Besides, your customer has the option of uploading photographs of the task for future reference. Dynamics 365 for Field Service allows direct billing by eliminating invoicing delays. Moreover, you can configure service agreements so that whenever your customer requires maintenance services, your field service engineer is notified and the job is taken care of seamlessly. Last but not least, Dynamics 365 for Field Service and Connected Field Service provide faster response times, quick troubleshooting, resolve issues through IoT (Internet of Things) and First Time Fix Rates (FTFR) to your customers that save them a good amount of time.
Customization and Integration
The world is changing rapidly and market trends are altering even faster. To keep up the pace and make peace with the surrounding business changes, it is necessary to have a management system like Dynamics 365 for Field Service in place that can be customized remotely and deployed to all kinds of mobile platforms. Another noteworthy benefit of this software is that it can be easily integrated with Microsoft Office 365 licences for increasing efficiency. Dynamics 365 for Field Service's integration with Dynamics 365 F&O enhances budget management. You will exactly know where your hard-earned money is being spent currently and where it should be spent in the future.
Mobility
Dynamics 365 for Field Service makes mobility seamless. It allows the field service engineers to freely view customer information, case history, product configuration installations, contracts, product parts information, and pricing. Apart from this, the servicemen can receive additional information they require and whenever they require. Microsoft has put in so much thought to create Dynamics 365 for Field Service that no stone has been left unturned. The service engineers are also provided with a map to find the pin-pointed customer location with correct directions.
Conclusion
According to research reports, more than 70 per cent of customers believe that bad customer service finds its roots in explaining problems to multiple heads through calls, emails, and physical complaints. Dynamics 365 for Field Service optimizes the entire process and system from managing inventory, finances, and employees to resolving customer grievances, thereby, saving you a lot of time and enhancing customer satisfaction. If a business really wants to flourish, it has to value time and its customers. In fact, time is much more valuable than money because you can always make more money, but it is impossible to get more time.
Therefore, if you wish to see your business grow a mile a minute, call up JIVA InfoTech for carrying out the implementation of Dynamics 365 for Field Service.