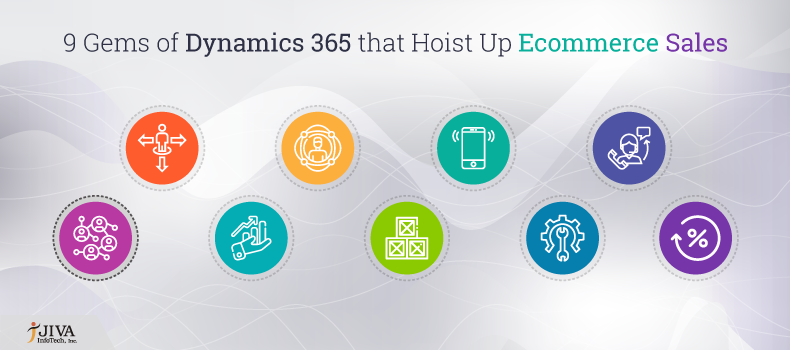 9 Gems of Dynamics 365 that hoist up Ecommerce sales
Due to cutthroat competition in recent times, a robust retail management system is needed to boost the sales of Ecommerce companies. Microsoft Dynamics 365 is an appropriate, holistic business solution that not just unifies front and back end processes but helps in fostering Ecommerce sales and enhancing customer service. Dynamics 365 flaunts state-of-the-art tools for attaining better insights, reach more customers and achieve better financial outcome.
Literally, there cannot be a better way to earn customer loyalty or convert a lead into a customer than knowing precisely what the customer wants to purchase. To master this, ecommerce stores have to give personal attention to every potential customer. With an ocean of customers tempesting towards you, how are you going to keep a track of what the liking of each one is and what is he looking for?
This is exactly the point where Microsoft Dynamics 365 steps in. It assists you seamlessly throughout the sales process and optimizes it in the follow ways:
1. Better decision making
Dynamics 365 helps you identify the true needs of customers. Firstly, it generates insights that can help you locate and engage with more competent buyers. In this manner, you can increase your sales by increasing the chances of doing more business. Secondly, it helps you collect information from social media platforms such as Twitter, Facebook, Instagram, where you can record people's responses on your services or products. Thirdly, Dynamics 365 has been skilfully designed to optimize your marketing process by constructing predictive models, generating leads, acquiring customers' contact details along with social and financial information. All the above information helps you in making informed monetary decisions.
2. Customer experience management
Every Ecommerce shop owner has the aim to convert one-time customers into long-term buyers which is extremely challenging. However, artificial intelligence is making rampant progress and allowing ecommerce stores to offer personalized experience and augment customer engagement. Dynamics 365 has made it a cakewalk for web store owners to allow customers to browse through their product and services catalogs. In addition, you have the option of making personalized recommendations based on earlier purchases and wish-lists. It also flaunts customer loyalty features with the help of which customers can earn and redeem points, make use of gift cards, and cash in promotional coupons.
3. Multi-platform mobility
Customers make use of unnumbered touch-points to search for products and buy them. Dynamics 365 promises exceptional experience for shoppers across different touch-points such as web and mobile by creating a familiar, trustworthy cross-channel platform. With the help of this multi-platform mobility, customers can purchase anywhere and even collect their products anywhere. Google has already prioritized Ecommerce websites with mobile-responsive design and in times ahead this trend will become more noticeable in the B2B space as well. The consistent service across multiple channels offered by Dynamics 365 has massively increased customer retention and boosted sales enormously.
4. Excellent Customer Service
If the customers are served rightly and they are satisfied, sales will automatically shoot. Dynamics 365 Retail saves you from the trouble of manually searching through massive databases and lists to locate a particular product. In this way, you save a lot of time and respond to the customer's requirement in a flash. ERP helps you to resolve customers' issues and grievances in no time by keeping a track of their personal information and purchase journey. Dynamics 365 includes features such as personal reminders and push-notifications so that you can keep your customers updated about their favourite products and the products that were earlier out-of-stock.
5.Make use of seamless tools
As an ecommerce store owner you can reduce manual data entry with the help of scanning and converting business cards into brand new records in the Dynamics 365. What's more, you have the option of streamlining workflow with advanced mobile applications and tools such as Excel, Outlook, and SharePoint that work smoothly with Dynamics 365. In this manner, you can save a lot of time and invest in boosting sales productivity.
6. Catalyze sales performance
Dynamic 365 help sales managers augment sales performance with the help of tools such as conversational intelligence for knowing the customer better, pipeline analysis for tracking the movement of leads, and analytics for building customer relationships. The ERP also consists of artificial intelligence insights that help you explore market trends, information about your competitors, and the upcoming needs of customers. The outcome of these insights gives you a clear picture and catalyzes your sales extensively.
7.Merchandising management
Dynamics 365 has made merchandising management extremely smooth. It helps you in attaining stock at the right price from the right supplier which in turn supports you in managing your Ecommerce store seamlessly according to competitive pressures and market demand. Therefore, your sales and revenue increases considerably as you are able to target products, manage promotions, increase customer loyalty, and implement tiered pricing.
8.Field Service
The Field Service module of Dynamics 365 help the field staff to keep a proper track of the customer list, route planning, listed appointments, time taken, and the entire delivery process. The smoother the field service, the better the customer feedback that naturally converts into boost in sales.
9. Evolving sales solutions
Dynamics 365 comes with scalable and adaptable sales solutions that can be modified with your innovation and according to your ecommerce store requirements. They are easy to customize and integrate with various other services and applications for acquiring a seamless sales process.
Conclusion
Dynamics 365 helps you to collect, unify, and score leads way faster than your competitors. It smoothens the process of knowing your customer thoroughly, giving him what he wants, and further boosting sales by cross-selling to them related products. Not to mention, Dynamic 365 seamlessly integrates with Microsoft Office that makes the business process glide along effortlessly.
So, are you ready to boost your sales?
Drop a line to JIVA InfoTech right away for getting your Dynamics 365 up and running. We will implement the ERP system from scratch and offer you services along the journey.