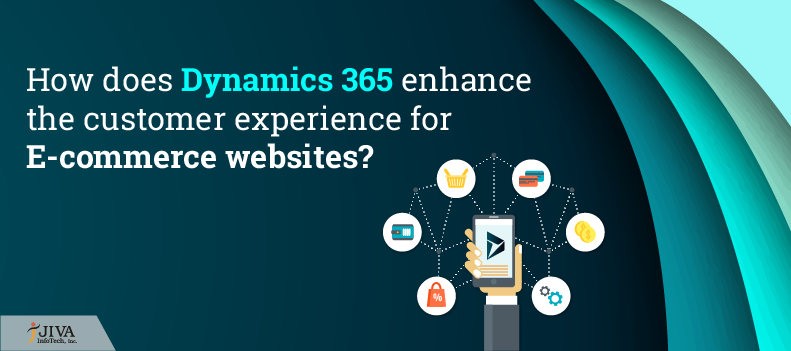 How does Dynamics 365 enhance the customer experience for E-commerce websites?
There is a popular old saying – 'The customer's perception is your reality'. Good customer experience is the cornerstone of the growth of any E-commerce website. If they like your overall service, they will surely return to buy from you. When customers repeat, it is a sign that your business is growing. In addition, your loyal customers bring in their relatives and friends through word of mouth, thereby, multiplying your business by manifolds. What guarantees the loyalty of a customer? Plain and simple – Offering your customer a pleasant experience to remember! How do you provide premium customer experience for E-commerce websites?
Delightful buying experience
Seamless payment process
Real-time order status tracking
Prompt post-sales service
How do you achieve it?
For achieving the above features, a seamless centralized system is required that not only integrates all the essential departments but also acts as a master source of information for the entire business process. The system should be fast, seamless, and easy-to-use. What else can be better than Microsoft Dynamics 365!
Dynamics 365 augments efficiency, reduces errors, and enhances productivity and performance. It gives you a crystal clear picture of where your business stands by helping you generate analytical reports after collecting information from the numerous departments. It involves artificial intelligence and actionable insights to keep the results accurate and smoothen your decision-making.
How does Dynamics 365 augment customer experience for E-commerce?
Managing the inventory and resources
Manual ways of tracking inventory takes a lot of time and creates excess paperwork. An automated system like Dynamics 365 ensures that the product is sourced and delivered in time. You need proper resource planning from purchasing raw materials to delivering the finished products as soon as a new sales order lodges into the system. From production planning to managing labor, from flawless packaging to the delivery process, all of it is taken care of by Dynamics 365. Neither will your precious customer have to wait while you check the availability of the product he selects, nor will you fail him to deliver it in time. Good customer experience – Ticked!
Integration with E-commerce platform
Every web store is built on an E-commerce platform such as Magento. For a seamless flow of information and business process, it is vital to integrate Dynamics 365 with your E-commerce platform. With Dynamics 365-integrated online store system, you can offer your customers a flawless user interface and excellent user experience resulting in increased conversions. Apart from easy-to-use interfaces, it provides accurate inventory and order tracking details. Such seamless integration brings transparency in the flow of information, taking customer gratification a notch higher.
Access real-time customer information
For awesome customer experience, you need a system that churns out accurate customer order information in a flash so that you can resolve client issues, queries, requests, and doubts without any delay. Dynamics 365 works wonders for this purpose as it unifies all the information into a single database by integrating different departments. It helps you keep a grip on the market trend by walking through your customer journeys in a breeze. You have the option of tracking and analyzing customer behavior, purchase history, and preferences.
Self-service capabilities
Dynamics 365 offers a personalized, help-yourself experience to your busy customers who can freely access their account information and obtain answers for specific queries on their own. It is both fast and convenient. This self-service portal comprises a massive searchable database along with a web community space that envelopes countless problem-solution stories. It doesn't end here as you can also transit your customers to assisted support for issues that were not resolved by the knowledge base and online community. This portal also gives your customers access to product brochures, reward points, and credit balance. In this way, customers do not have to go through the pain of making calls and sending emails to your customer care department.
Customer feedback and complaints
When you know what dissatisfies and disappoints your customer and you diligently work on the issues to resolve it, standing out in the competitive market is no big deal. Dynamics 365's CRM – Customer Relationship Module helps you keep an eagle eye on the customer service requests, its status, customer communication history, how the issue was dealt with, and customer feedback. You can leverage this information as used-cases for overcoming future hurdles. You will not just know how to solve an issue but you will be able to do it most quickly and efficiently, thereby leaving your customers with an impeccable experience.
Balancing demand and supply
If you are running an E-commerce store, it is extremely important to strike a balance between demand and supply so that you do not run out of products in an emergency or at the last minute. Dynamics 365 leaves no room for error and ensures that your customers' orders are fulfilled and delivered every time. In addition, once you integrate Dynamics 365 to your e-commerce store, you do not have to worry about overselling. Your updated inventory will take care of sudden peaks in demand of products. If you can bar overselling, you will have more happy customers with positive customer experience.
Firm control over supply chain
Dynamics 365 flaunts out-of-the-box features that allow you complete visibility and control over the supply chain, from procurement to production, so that stale raw materials or below standard products can be easily tracked and taken care of. This process enhances efficiency which in turn increases customer satisfaction because pricey delays and prolific wastage is prevented greatly.
Seamless payment process
It is extremely disappointing for a customer to go through a complex and lengthy payment process. Microsoft Dynamics 365 offers credit card processing and various other payment methods such as gift cards, debit cards, PayPal, and electronic cheques. This ergonomic streamlined solution eradicates the need for third-party gateways and frivolous data entry and enhances the customer experience.
Conclusion
If you wish to give your E-commerce customers an experience that brings them full of the joys of spring, you have to start at the grass-root level and Dynamics 365 will help you lay the foundation. A happy customer is a repeat customer. Once he becomes loyal, he will pull in his acquaintances and there shall be no looking back for your business.
For implementing Dynamics 365, drop a line to JIVA InfoTech. We are a trusted name in the industry and we offer incredible customer experience.