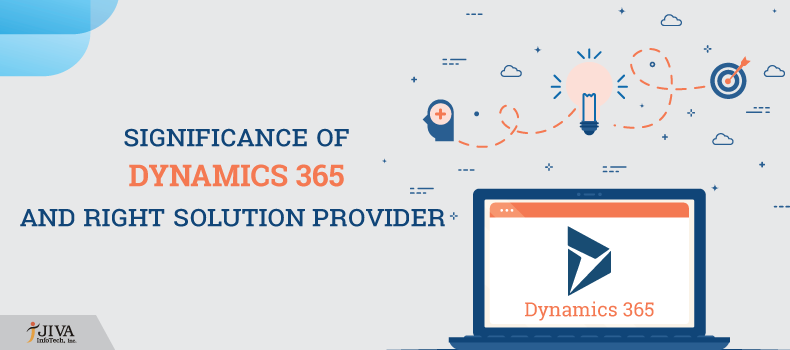 Significance of ERP, Dynamics 365, and Right Solution Provider
With the growth of any business, the administrative work pressure increases rampantly. In the early stages, companies can manage the workload by using excel sheets and e-mails. However, as time passes by and demand from customers grows exponentially, it becomes extremely taxing to manage the affair manually. This is exactly when Enterprise Resource Planning (ERP) comes to your rescue. If you are spending more time in carrying out the paperwork than in running your business, implementing an ERP system is the need of the hour. An ERP system minimizes errors, saves cost, enhances efficiency, and increases productivity, thereby increasing revenue.
For successfully running a large business house having multiple departments, an ERP system is required for a seamless flow of information across all departments. In this way, your business functions within an integrated, centralized system where all the data is entered into a single database, enabling numerous departments to work with the same piece of information. Over and above, reports can be generated by analyzing this data as it laces together human resources, financial management, inventory, customer handling, and business intelligence, all under one umbrella.
Now the question arises – Which ERP system is best in the market?
You shall hear the name in unison – Microsoft Dynamics 365!
Why Microsoft Dynamics 365?
Know your customer thoroughly – It is important to know what your customer wants and to some extent how he/she thinks. With the help of Microsoft Dynamics 365, you can get accurate data insights to understand the journey of your customer with real-time updates. It enables you to personalize your customer experience and keep an eagle eye on customer relationships.
Light on your pocket – All you have to shell out is for the subscription model and the monthly operational cost which are way cheaper than the cost incurred to set up and manage an entire data center with servers. What's more, with Dynamics 365 you can extend the functionality as you grow.
Stress-free marketing – The management of leads, campaigns, and contacts is taken care of by the marketing module. This includes customer segmentation along with campaign planning and implementation. Furthermore, it proffers reports, analytics, and a letter-perfect collaboration between sales and marketing.
Boost in sales – The sales module of Dynamics 365 seamlessly manages the workflows of your sales. Opportunities are managed by the opportunity management section via numerous sales steps and stages. The conversion of leads to customer accounts is smoothened and simplified by the excellent user interface offered by Dynamics 365.
Unparalleled scalability – As Microsoft Dynamics 365 is available in a monthly subscription model, it enables you to scale up and down according to your requirements. In other words, you merely have to pay for what you require and when you require it. For case in point, as the team grows, you have the option of scaling up your plan.
A safe bet – Everyone wants their data to be secure, especially when it is related to their personal life and business. Microsoft Dynamics 365 is extremely secure as it is a cloud-based solution. As cited by Rémy Vandepoel, Technical Cloud Evangelist – "There's a misconception around cloud that it is less secure than any on-premise server. It's actually quite the opposite". It offers sturdy security and access panels for data and apps.
Reference link for Remy Vandepoel quote: http://bit.ly/2QZehgR
Michael Hill's Dynamics 365 Journey
Manufacturer of intricate, prismatic jewelry, Michael Hill, has a global presence and is known for keeping its customers gratified. However, lately, the jewelry maker had been facing challenges in upkeeping its growth due to an outdated IT system. Therefore, it decided to shift to a cloud-based solution – Dynamics 365. Since then, Michael Hill has witnessed a boost in sales and enhancement in user experience. The impeccable security and unrivalled scalability offered by Dynamics 365 added significant value to the business.
After the company integrated multiple data sources within Microsoft Dynamics 365, it was able to provide its customers with an experience to remember. The ERP solution enabled Michael Hill to track their customers' purchase history and guide them to the relevant products and promotions. Gradually, the customer interaction and personalized experience elevated to a whole new level. A customer search that earlier took four minutes was now being completed in seconds as the data instead of being spread across multiple systems was now consolidated under one single system – Dynamics 365.
The mind-boggling digital transformation didn't stop here as Michael Hill empowered their data insights with the help of Microsoft Power BI (Business Intelligence). Michael Hill believes that Dynamics 365 has a long way to go in strengthening its business through technological upgrades in years to come.
Who will implement the Microsoft Dynamics 365 system and maintain it?
The above ERP solution is music to ears, however, the question is – Who will implement it and provide maintenance services?
You do not have to rack your brains pondering over it as the industry has solution providers or partners who help businesses empower their core processes by implementing Dynamics 365. It catalyzes revenue generation and saves you a lot of time. The Dynamics 365 implementation work plan formulated by these agencies is customized according to your business' short-term and long-term goals. Apart from this, these solution providers upkeep your Dynamics apps and offer premium ERP services so that your business operations run seamlessly.
Process of Dynamics 365 implementation
Proper planning – As the old saying goes, "Plan your work and work your plan", the agency will sit with you and strategize the infrastructure for starters. Planning has to be done taking into consideration business operations, goals, and return on investment.
Assessment of current infrastructure – The agency helps you take an assessment of your present systems, applications, and databases. Many a time, Dynamic 365 implementation fails due to outdated systems and programming languages.
Being aware of the functionalities – Microsoft updates Dynamics 365 with novel functionalities on a regular basis. Before you decide on adding more features or modules, the agency will first revisit all your current functionalities. Just a little bit of tweak might fulfill your requirements and save you from spending frivolously.
Team of experts needed – Implementation of Microsoft Dynamics 365 is not a one-man show. The agency has a skilled team that can identify, understand, and concentrate on process enhancements for unforeseen issues and make sure that every task is done timely and within budget.
Testing – The agency installs Dynamics 365 into the test environment and configures it. The system will be ready only after this stage.
Validation – The validation is done by carefully walking through every process, thorough checking followed by running a report. The agency does not hand over the software to you unless the validation is complete.
Training – Thereafter, the agency trains you properly before giving you access to the test system so that you exactly know how to carry out the testing.
User Acceptance Testing (UAT) – Based on UAT, you may test the software. When bugs are identified, the agency will update and do the correction as and when needed. Once validation from your end is complete, your ERP is good to go live.
Support services – A trained staff from the agency will see over your everyday operations and provide support for any issues that crop up. The agency will conduct the support services on site.
Conclusion
The significance and benefits of ERP systems dwarf the initial investment, exertion, and time consumed in its implementation, provided you pick the correct solution. And the right solution is – Microsoft Dynamics 365 that offers premium performance, excellent features, state-of-the-art technology, and a fantastic framework constructed to go on for years to come. Its seamless integration with tools, applications, and business-related solutions is what makes it stand out. When your business runs smoothly, it enhances user experience and earns you multifold profits.
Implementing Dynamics 365 shall not be a challenge if your solution provider is JIVA InfoTech. We have a robust installation methodology and support services in place that will help you navigate through the implementation in a breeze.