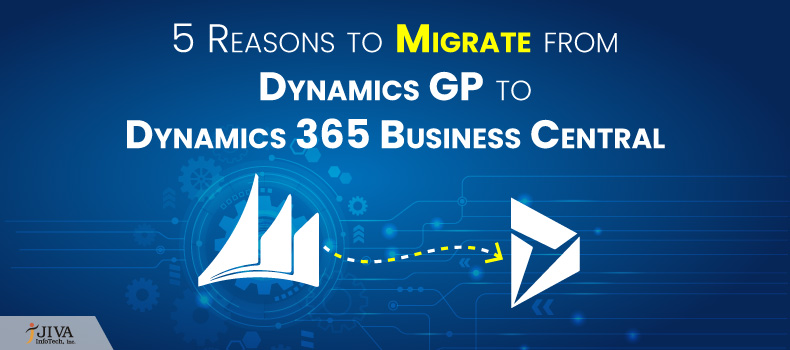 5 Reasons to Migrate from Dynamics GP to Dynamics 365 Business Central
Microsoft Dynamics GP is a robust financial management solution, used by mid-sized organizations for nearly 20 years. Dynamics GP is easy to configure, and a comprehensive solution with advanced functionality that comes out-of-the-box. Because of this, the Dynamics GP has enjoyed a very loyal customer base.
However, in recent years, Microsoft released only small enhancements to the ERP system and has been aggressively promoting Dynamics 365 ERP system – Dynamics 365 Business Central (BC) and Dynamics 365 for Finance and Operations (F&O). Both Dynamics 365 BC and Dynamics 365 F&O are cloud-based, modern, and flexible ERP platforms accessible from anywhere, any time, and from any device.
Dynamics 365 BC – for small to mid-sized customers
Dynamics 365 F&O – for enterprise customers
So, where does that leave Dynamics GP and its customers?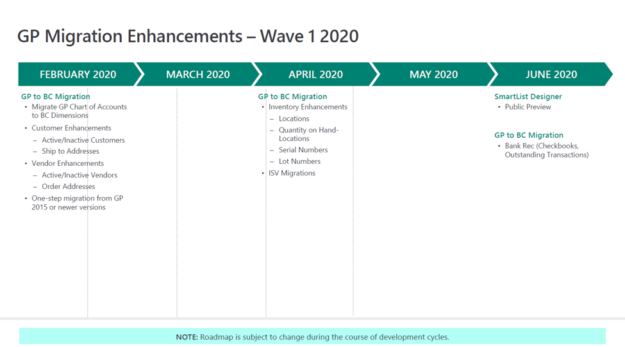 Microsoft is encouraging all small to mid-sized customers (on Dynamics NAV, Dynamics GP, or on any other ERP systems) to migrate/ adopt Dynamics 365 BC.
1) Dynamics 365 Business Central is built on the Microsoft Azure Cloud
Microsoft Azure is a cloud hosting environment that provides hybrid consistency across the data platform. It delivers extraordinary developer productivity, comprises more regions compared to other providers, and with 90+ certifications offers the most comprehensive set of compliance offering.
Azure cloud offering provides better ROI than existing on-premise solutions. Cloud services do not require the considerable infrastructure cost (hardware, licensing, resources, etc.), offers automatic updates, and is extremely secure.
2) Seamless integration with the Microsoft Products suite
Dynamics 365's real power lies in its ecosystem. Upgrading to Dynamics 365 Business Central ensures that you gain access to that ecosystem – ERP, CRP, Power BI, AI, Power Apps, etc.
Seamlessly integrates with Microsoft Office apps (Word, Excel, SharePoint Online, Teams, OneDrive, PowerPoint, Power BI, and Outlook)
Helps in accessing accurate financial data in real-time by seamlessly integrating with Excel
Fully integrates with Outlook and enables you to process purchase requisitions, purchase orders, sales orders, and approvals
Comprises applications to manage all operational requirements (Enterprise Retail, Sales & Service, Talent, Financials, and Marketing)
Unifies processes and minimizes the risk of errors by preventing duplicate entries
3) Flexible chart of accounts
Flexibility of dimensional reporting on business transactions. It could be set up by a particular type or category such as project, department, etc.
A simplified account structure that enables you to define rules that regulate the use of financial accounts across the system.
Eliminates the endless account string as the account number isn't limited to any configuration for how it's categorized or segmented.
Adaptable to the continually changing financial requirements.
4) Power BI user interface (Self Service Customization)
Get a complete view of your business with business intelligence and world-class graphic analytics
Easy to build dashboards that can be viewed in real-time coupled with user-defined criteria
The advanced and intelligent digital transformation that offers detailed visual charts and graphs
Browser viewing screens along with access to full capabilities of mobile applications and a personalized dashboard that helps you drill into exactly what you require at the time you need it
5) Seamless migration from Dynamics GP to Dynamics 365 Business Central
Microsoft provides you with a built-in migration tool along with a Data Migration Wizard in Dynamics 365
With the help of an integrated cloud platform, you can easily merge the Microsoft solutions which you are accustomed to, use and break down data silos, increase productivity and make the migration to Dynamics 365 Business Central a quick learning curve.
Familiar look and feel of the user interface
Are you thinking of upgrading to Dynamics 365 Business Central? You can trust JIVA Info Tech. We are a Microsoft Gold Partner, and we have the experience and expertise to get the job done right.