Professional SharePoint Services
Connect people with information and expertise
Enhanced business insight for better decisions
Centralized repository
Collaboration platform for the enterprise and the web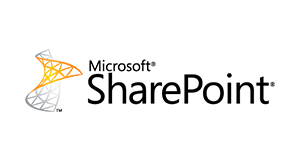 Excel reporting
Blogs, Wikis and e-mail integration
Data migration
MOSS Installation, Configuration and Troubleshooting
Enterprise search
User Interface and Graphics Customization
Branding
Workflow Solutions
Portal development
Customized workflows for Administrative Processes
Document management
Dashboards
Group Collaboration and Syndication
Content Management
As the world is moving fast, enterprises are also looking for fast and easy association between the employees of the enterprise. SharePoint provides a base for collaboration, content management, business intelligence, and personalization services along with Enterprise Search, integration of data, and processes which can be applied to Intranets, Extranets and Websites.
SharePoint can be easily scaled and extended to meet future business requirements. It supports specific content publishing, document management and portal framework. It is mainly designed to work with unstructured data such as web content, documents and can analyze large amounts of business data.
It presents a single, integrated location and provides a centralized repository wherein documents can be commonly stored and accessed. This enables employees to efficiently pool resources with team members, find organizational resources, and search for experts and corporate information. We help in managing content and workflow, reporting applications and get enhanced business insight to make better decisions.