Upgrading MS Dynamics ERP system to its latest version is one of the best possible investments you can make. In addition to the benefits provided by new features and performance enhancements, an upgrade to Microsoft Dynamics 365 allows you to take full benefit of breakthrough innovations around mobile, business intelligence, AI, machine learning, and flawless integration with the entire Microsoft platform including Office 365 and more.
JIVA InfoTech has extensive experience in software upgrades, upgrading to the cloud from on-premise, and upgrades from Dynamics AX, Dynamics NAV to Dynamics 365. Our experts help you profoundly thought through every step of the complex process. We adeptly evaluate the steps you need to take and the ones you can skip in order to get going and have the smoothest transition. The time taken depends on various factors. However, it usually takes around 1-2 months to convert your database and create/deliver a test database, a minimum of 2 months for testing, and 2 days for going live with the updated version.
Our approach to upgrades: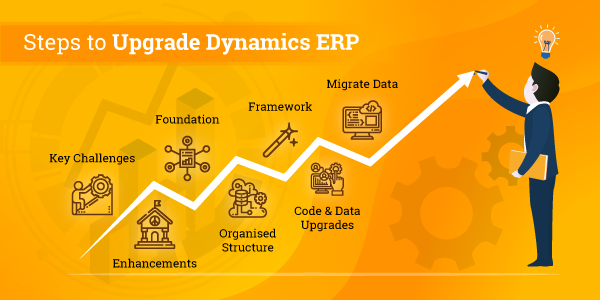 We create a blueprint by identifying the key challenges the company is facing and how an upgrade can help you achieve your business requirements.
We lay the foundation by identifying and preparing a list of customization's.
We build a framework along with migrating data from one system to the other.
We carry out an in-depth analysis of the system including codebase, database, and system landscape for identifying the list of enhancements to be made.
We give an organized structure to the settings and configurations for running operations without obstruction.
We execute code upgrades and data upgrades while keeping a note of all the extensions that your ERP system is currently working on. We ensure right functioning of your ERP system by making sure that the data visibility your business requires is in place.