You can now streamline your processes, make smarter decisions, and accelerate growth by implementing Dynamics 365 Business Central. It is a comprehensive business management solution designed for small to medium-sized businesses. Highly adaptable and rich with features, Business Central enables companies to manage their business, including finance, manufacturing, sales, shipping, project management, services, and more. Companies can easily add functionality that is relevant to the region of operation, and that is customized to support even highly specialized industries.
Features of Dynamics 365 Business Central: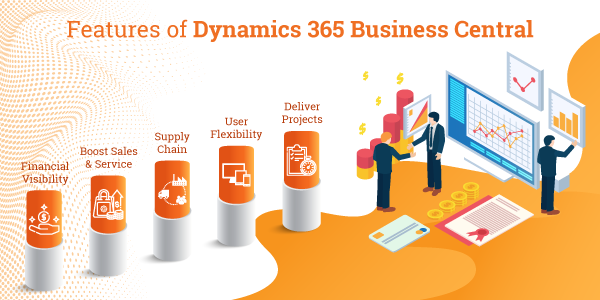 Enhance financial visibility
Speed up financial close and reporting and maintain compliance with quick, accurate, and streamlined accounts receivable and payable.
Make informed decisions with connected data across accounting, sales, purchasing, inventory, and customer transactions.
Enhance forecast accuracy with comprehensive data modelling and analysis. Customize and share reports with seamless Excel integration.
Chart financial performance in real-time with built-in Power BI dashboards. Identify patterns and trends and gain new insights with in-depth analysis and unlimited dimensions.
Boost sales and upgrade service
Speed up the sales process from quote to cash. Act quickly on sales-related inquiries, manage service requests, and process payments—all from within Outlook.
Arrange sales leads based on revenue potential. Keep track of all customer interactions and get guidance on best upsell, cross-sell, and renewal opportunities throughout your sales cycle.
Get hold of a comprehensive overview of your service tasks, workloads, and employee skills to effectively assign resources and facilitate case resolution.
Augment your supply chain
Acquire a complete view of inventory for timely order fulfilment. Track every item transaction and movement by setting up bins based on warehouse layout and storage unit dimensions.
Forecast the ideal time to replenish stock with built-in intelligence. Use sales forecasts and expected stock-outs to automatically create purchase orders.
Uphold the correct amount of inventory by automatically calculating stock levels, lead times, and reorder points. When requested items are out of stock, automatically suggest replacements.
Compute and enhance manufacturing capacity and resources to improve production schedules and meet customer demands.
Operate your business from anywhere
With a consistent, intuitive experience across Windows, Android, or iOS devices for mobile access to Business Central you can now take your business on the go.
Acquire the same user experience no matter how you deploy—in the cloud, on-premises, or a combination of both.
Deliver projects on schedule and keep the budget in check
Generate, manage, and track customer projects using timesheets along with advanced job costing and reporting capabilities. Develop, modify, and control budgets to ensure project profitability.
Make informed decisions with real-time insights on project status, profitability, and resource-usage metrics.
Uphold resource levels by planning capacity and sales. Track invoicing for customers against planned costs on orders and quotes.