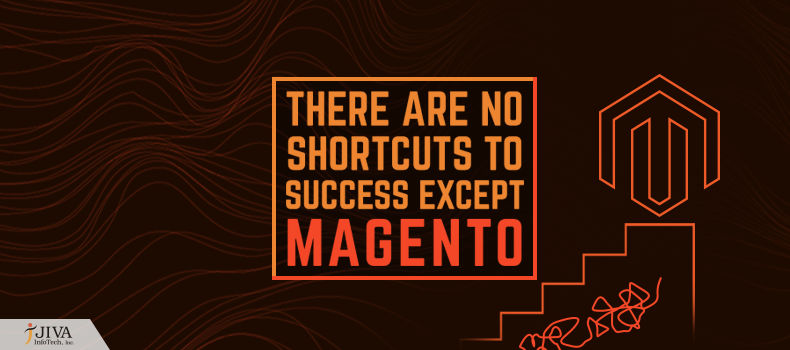 There are no shortcuts to success – except Magento!
Lakhs of online retail stores and websites, riding on the back of the E-commerce business model, have metamorphosed it into a multi-trillion industry. In the United States alone, E-commerce sales have rocketed to 453 billion dollars showcasing a remarkable growth of 15 per cent since 2016. Beyond a shadow of doubt, this enterprise model has the potential to help online business owners earn big bucks.
Ruling the realm of E-commerce platforms, Magento offers the ideal blend of growth, flexibility, and scalability. Industry behemoths like Samsung, Coca Cola, Nike, Nestle Nespresso, Ford, and others are powered by Magento and more than a quarter of the globe have opted for the same. In numerical terms, over 86,000 online businesses in the US alone have pillared their web stores on Magento.
What makes Magento so cool?
Magento is galloping at a growth rate that has left other E-commerce platforms such as Volusion and Shopify miles behind. Fresh businesses are readily opting for it while many others are switching to this user-friendly, customizable e-commerce platform.

Let us dive into some of its key features and benefits that makes Magento so cool:
Open source:
Magento steals the show due to the simple fact that it's open-source. Any developer has the liberty of customizing, modifying the code, and using it to his benefit. Magento offers 3 different versions – Magento Community Edition (free of cost or open source), Magento Enterprise Edition (paid), and Magento Go (paid). The Magento Community Edition envelopes exclusive features and myriad marketplace extensions required for developing a competitive online store. This edition encompasses a massive community of merchants, consultants, shop owners, developers, designers, technology service providers, and end-users who kindle worthy discussions and solutions. Magento has one of the largest community support compared to other online platforms. In addition, unlike Magento most of the other E-commerce platforms are available only in one software version which is not specialized for companies at the enterprise level.
Seamless Integration:
Magento can be smoothly integrated with apps and ready-made plugins. Its APIs can be freely connected to shipping apps and payment gateways. For instance, if you want to charge a customer for a product, you can use different payment gateways without having to write a single line of code. All you have to do is insert the customer id and password at the backend using the admin panel. Similarly, you can provide the customer with various shipping rates to choose from. The product information is transferred to the APIs of shipping agencies and the response is directly sent to the customer. It is an in-built feature and requires no additional coding, thereby saving time and effort.
SEO-friendly:
To sell, you have to be seen. With innumerable pages being maintained on an E-Commerce platform, Search Engine Optimization (SEO) may be left far behind. However, Magento helps you avoid this. Its architecture comprises SEO-friendly features that leverage your website to rank higher in search engines so that your customers face no difficulty in locating you. It is more SEO-friendly than most of the E-commerce platforms.
Optimum performance:
E-commerce is a game of speed. Whether it is page loading time, time taken to process a query or other operations, Magento is as quick as a flash. It makes use of minimal servers and proffers maximum performance.
Layered Navigation:
You might be having exclusive products in your web store but it will be of no use if the customer fails to find it. Magento's layered navigation system, like Sherlock Holmes, can track down a particular product even if it is hidden amongst a thousand similar products. It helps the customers locate the product based on price range, color, category or other attributes. Layered navigation makes searching a cakewalk for the users.
Customer Dashboard:
Magento comes with a flexible customer dashboard that guides the customer to track the products they have ordered, store their downloads, have a look at their previous transactions, go through newsletters, and perform other related tasks. Magento has all of these in-built and you need absolutely no external customer support for dealing with such issues.
Tiered pricing:
Tiered pricing allows you to set different prices for the same product when being sold in a different quantity. For case in point, if you charge 10 dollars for a particular shirt and your customer wants to purchase 1000 pieces of the same shirt, Magento gives you the option of lowering the price and offering the shirt at a wholesale rate. This feature is highly relatable to B2B businesses.
Customer groups:
This is one of the finest features offered by Magento that allows you to create different groups for different customers. For example, you can create a retail group for your regular customers where you sell a particular shirt at 100 dollars while you create a wholesale group where your customers log in and the same shirt priced at 50 dollars. Such amazing flexibility in customization is what makes Magento stand out.
Mobile-friendly:
An e-commerce platform needs to be mobile-friendly as most of the online shopping is done via smartphones in the present day. A commendable feature of Magento is that it provides customers a similar experience on both desktops and smartphones. It offers seamless drop and drag options, screen size control, and audiovisuals that function equally well on desktops and smartphones.
Free from hosting limitations:
Unlike other E-commerce platforms such as Volusion and Shopify, Magento gives you the freedom to opt for the hosting of your choice that suits your budget and requirement. What's more, you are free to migrate your web store without racking your brains on where and when you want to host it.
Magento is as flexible as a sea lion
Multi-store option:
Imagine how magnificently your business would expand if you could run multiple stores from a single panel. Well, stop imagining and start realizing that Magento allows you to control multiple web stores from a single admin dashboard. You can avail of the benefit of multi-website handling at a rate of peanuts and in a breeze. In addition, Magento enables you to proffer a different feel and look to each of your websites, to pull in your customers based on their requirements. For instance, you can be selling leather products on one website and detergents on the other, both having different designs, themes, and templates, yet a common control panel. You have the option of controlling your inventory, billing, customer details, and orders through a single admin panel.
Module-based:
The real secret of Magento's flexibility is that it is module based. You do not have to change the basic structure to add or delete a functionality. For example, if today you have a customer wish-list on your web store and the next day you want to get rid of it, you do not have to redo the entire coding. You can separately and individually work on the targeted module without having to alter the basic architecture. Isn't that awesome!
PHP and MySQL:
Another interesting fact that makes Magento so flexible is that it uses PHP as its programming language and MySQL as its database. These two technologies are readily available and countless developers are acquainted with it. This has created community support for solving technical problems in a moment.
Amazon Web Services (AWS) Support:
Magento has AWS support that adds to its flexibility. You can easily host your Magento on Amazon's cloud system and integrate it in a manner where you can run your whole website on Amazon instead of using a local server. Therefore, Magento has the flexibility of running on the Amazon system as well any other leading hosting platforms of your choice.
Industry challenges resolved by Magento
Customer segmentation challenge:
A gigantic custom development is required to segment the customers under different criteria. The unique features and seamless programming of Magento simplifies customer segmentation to such an extent that converting visitors to customers seems not a big deal.
Difficulty in business process integration:
Integrating business processes is not a child's play and has been a challenge for the industry since ages. However, with the unparalleled features of Magento, it is very easy. This unrivalled E-commerce platform allows multiple extensions and plugins to integrate various kinds of business processes like a dream.
Conclusion
Is there any other E-Commerce platform that offers you all of that without costing you a fortune? The answer is loud and clear – A big NO! No wonder more than 2.5 million web stores have been built using Magento alone while the remaining 2.8 million have been built using all other E-commerce platforms.
Magento's flexible features give you complete control over the content, appearance, and all the capabilities of a web store. It helps you to adjust your website according to your business requirements, thereby proffering an elite shopping experience for your customers and clients. Magento's open-source and ready for customization attributes shoots it to the top, way above other E-commerce counterparts. The in-built core features and phenomenal flexibility that allow you to personalize your online store exactly the way you want to, are benefits that you will not reap from any other E-commerce platform.
To say that Magento is tailored according to your requirements would be partially correct. A more appropriate statement would be that you could tailor Magento as per your requirement. Don't waste time pondering and turn a profit right away. The day you start using Magento, its countless functionalities will blow your mind and leave you awestruck with a sigh – "Wow!"